Chess Course Review: Next Level Training by Noel Studer
Noel Studer, a Swiss grandmaster and a very strong chess grandmaster, started writing blogs on his website. Because of his proficiency in chess and high-quality blogs, he became very popular in the chess world. In this article, we are going to review Next Level Training by Noel Studer.
Disclaimer – This review is not paid for or endorsed by the course creator or any other company. With complete editorial freedom, the author is expressing his thoughts on the basis of 15 years of playing experience and with the experience of reaching a 2300+ FIDE rating. We may get some affiliate commission if you purchase products through our links.
Noel saw the major problem in online chess courses where no online chess course was dedicated to chess improvement for beginners and intermediate chess players.
This is why he decided to make his own chess improvement course. He has sold this course to more than 400 happy students, and many of them made substantial progress.
About Noel Studer's
Noel Studer was born in Bern, Switzerland. He became grandmaster in 2017 with a peak rating of 2588 in 2020.
He wanted to try a different chess career path, and hence, he announced his retirement from competitive chess and started his website Next Level Chess Training.
On this website, he provides very advanced chess material and high-quality chess blogs. You can check his website from here.
What is the course about?
The course is about chess improvement. Noel says that this course will help you to get chess material and make a perfect study plan as per your needs.
There are chapters included in this course that focus on making a study plan on your on and studying different aspects of the games.
You can purchase this course if you meet one of the following conditions
Chess.com or Lichess Rating – 800+ (Maximum 2100-2200 FIDE)
Passion for chess improvement
Want to learn new training methods
Want to get surrounded by a chess community.
Features of Next Level Training by Noël Studer
Because of the success of his blog and also to cater to the problems of beginners and intermediate players, he introduced his chess course called Next Level training.
More than 400 students have taken the benefit of his course.
Now we are going to see some features of the course.
Private Community Access
Once you purchase the course, you get exclusive access to the Discord community of chess players. You can chat and ask questions directly to Noel Studer. I believe this is the best feature for finding chess companions and practice partners.
The most important part about a small, engaged community is that you get access to like-minded people. I have joined several small communities in different niches on Discord and WhatsApp groups, and believe me, you get so much information from other people.
Resources inside the courses
You will get a list of resources, which includes books and various website names. When I was a beginner, I was unaware of most of the chess resources. Even I didn't know that a chess results website exists (A website where you get pairings before rounds)
Most of the coaches also didn't provide this information. He also included some of the best free resources which will save you the costs of buying different chess subscriptions.
Lifetime access
Once you purchase the course, you get lifetime access to the course. Even you get all the next updates for free.
9+ hours of content (Road to Chess Improvement)
The total video course duration is more than 9 hours.
FREE Chess Training Planner
Currently, this is the best planner available in the market. In this book, you will get empty designed pages to fill the chess work you have done.
When Noel started the website, he launched this planner in a few weeks.
Although you get a planner for free with this course, you can purchase it through Amazon directly. The planner costs $9.99, and you get a paperback version.
Contents of Next Level Training Course
Following is the chapter list
Introduction, Improvement Mindset
How To Study Anything
How To Study Chess
How To Study Tactics
How To Study Positional Chess
How To Study Openings
How To Study Endgames
Improve By Playing Training Games
How To Analyze Your Games
Construct Your Training Plan
Pricing
Now will discuss about pricing of this course.
This course is priced at $297, and you get lifetime access. Don't want to pay $297 in one installment, no worries; you can pay it in installments of $55 for 6 months, which is $330 for the entire course.
Is it expensive?
Let's discuss
For $297, you get 9+ hours of content and also some bonuses.
Divide $297 by 9, and it's around $30 for an hour.
I know that this is recorded, and 1000s of chess students will access it, etc. But the main fact is Noel charges around $200 for one hour of chess training. If you want to get training from him, it will be $2000 for 10 hours.
Also, on other platforms, you get an opening course for $99-299, depending on time and the coach's value.
Also, in a year, he runs a sale for a few days where you get 20-30% off, and that's a big deal then.
But should you wait for discounts? You never know when the sale will be live. It's a battle between saving money and chess training and improvement.
I will ask Noel to give a special discount to our readers. If he agrees, you will see it here. Until then, you can check out the following websites and our reviews. You will also get massive discounts on this website.
| | | | |
| --- | --- | --- | --- |
| Name | Discount Value | Review Link | Website Link |
| Modern Chess | 45% off on all courses | Review | Link |
| ChessMood | 20% off on all memberships | Review | Link |
| Chessify | 20% off on first purchase | Review | Link |
| Chess.com | 7 Days Free Trial | Review | Link |
Is it worth buying the Next Level Training Course?
If you have already read the pricing section of this article, you know. In simple words, this course is value for money and is recommended for 800-2200 players (Online rating)
Can't decide to buy the course? – Do this!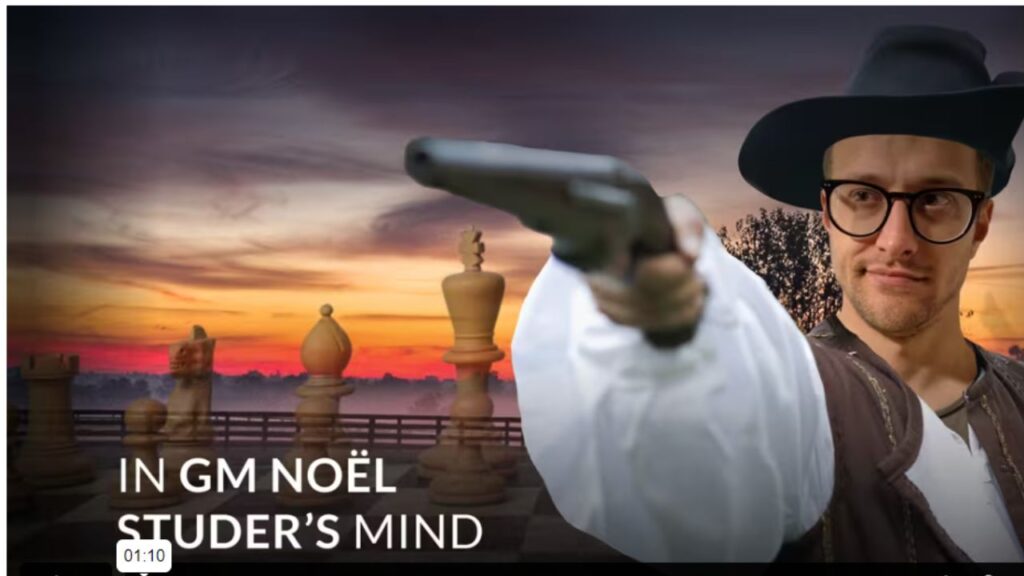 If you are hesitating to purchase the Next Level Training course because of Pricing issues? Here is the answer. Recently, ChessMood introduced a course by Noel Studer named In GM Studer's Mind. In this course, Noel analyzed 10 of his best games. This course duration is 3 hours and 36 minutes.
The chessmood price starts at $59 $49 (20% using our sign-up link) a month, and this is also one of the great chess memberships. You get many features, such as webinars and seminars and hundreds of hours of video courses.
If you are not planning to buy the next level training course, consider buying Chessmood Membership for 1 month.
We have written a full detailed review on it, which you can read by clicking the following button.
How to get a Next Level Training chess course for FREE?
No. You can't. But you can read various high-quality blogs from his website, www.nextlevelchess.blog
A combination of using ChessMood and Next Level Training Course
This is a simple and powerful combination of using online courses and tools to elevate your learning experience.
Step 1 – Buy Next Level Training and complete the course
Step 2 – Make use of the last chapter and design your own chess training program
Step 3 – Buy a ChessMood membership for a year (Approximately $800 a year after a 20% discount)
Step 4 – Watch chessmood videos and trust what they are saying. Ask your doubts and engage in both communities.
Step 5 – Track your Progress by using Training Planner (One of the Free resources you get after purchasing Noel's course.
Donate Us
Thank You for reading our blogs. We are an ad-free platform and want to serve you the highest quality blog posts all the time. We appreciate your support through donations.