Modern Chess Courses Review: Is Modern Chess Courses Worth It?
Modern Chess is a website started by GM Grigor Grigorov and GM Peter Arnaudov. It is one of the leading chess course websites. The courses are very high quality, and many grandmasters are using them.
I have personally purchased 8-10 Modern Chess courses in the last couple of years, and It benefited me a lot. In this article, you will find a complete section of my experience of using Modern Chess.
Disclaimer: Although we have a special partnership with Modern Chess, which gives users a massive 45% discount, this article is not sponsored and endorsed by Modern Chess or any other company. All these are the author's personal views and experiences. But if you purchase courses from Modern Chess by using our code, we get an affiliate commission, and users get 45% off.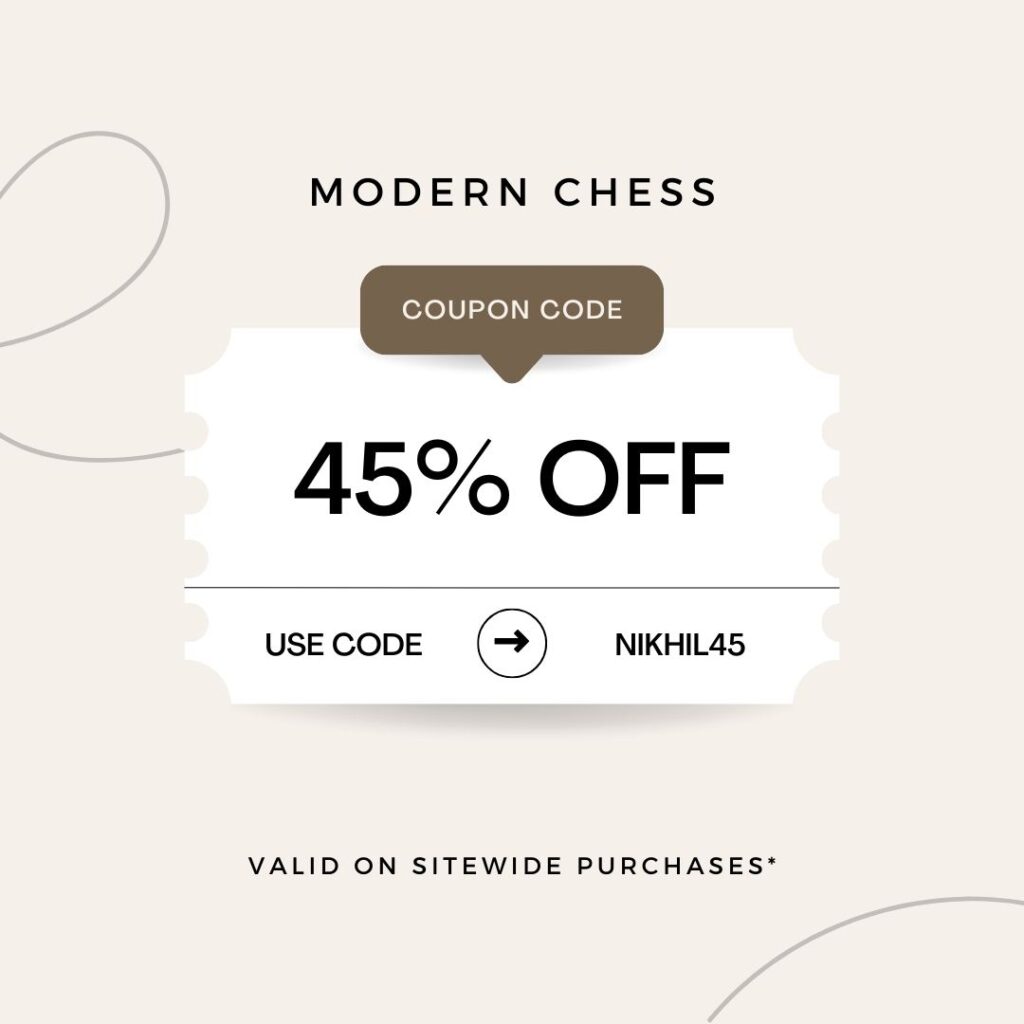 Modern Chess is popularly known for its high-quality opening courses. Although they sell various types of chess courses, which include
Opening Database

Middlegame Database

Endgame Database

Live Camps
Purchasing a Modern Chess course can be a good investment in improving your Chess as it is very affordable compared to the major chess platforms.
All courses are made by Grandmasters and titled players, which makes Modern Chess Unique.
Founders of Modern Chess
Modern Chess is managed by GM Grigor Grigorov and GM Peter Arnaudov.
Apart from the founders, there are various Grandmasters, including Pavel Eljanov, Boris Avrukh, Michael Roiz, Mihail Marin, Kiril Georgiev, and Daniel Naroditsky, who recorded various courses.
Quality of Chess Courses
This is the first question you should search for before buying any chess course.
All courses of Modern Chess are recorded by Grandmasters.
The opening courses are top-notch and incomparable to any other website compared to the price at which they offer the full course.
For example, they have courses by Ivan Cheparinov, who himself is a world-class grandmaster and has worked with various top chess players in big events. You will find his courses at prices between $40-80. Also, they make various sales with 60% off, and at that time, the course price becomes $25-40.
According to my personal experience, the course quality is suitable for players above 1400 FIDE Rating. However, the courses are useful and used by many Grandmasters and titled chess players. So, there is no upper limit.
They usually publish specific courses on particular variations (E.g., Two Knights Variation against Caro Kann by GM Arjun Kalyan). Because of this, authors can cover every aspect of it.
Features of Modern Chess
Following are some of the features that I have found.
Access to downloadable PGN and Video File
This is by far the best feature I have seen. Once you purchase any course or database, you get a downloadable file in PGN format, which you can open in Chessbase software.
All professional chess players use chessbase software on a daily basis. They store their databases in chessbase software, and it is essential to get downloadable files.
Even if you purchase video files, you get a download option, and then you can download the videos on your computer and watch them later.
Opening Courses
They are known for opening courses, and I highly recommend giving it a try. You will find a database on every opening.
Partner Courses
They have tied up with various other chess course platforms, including AskAvrukh, The Chess World, ChessMood, Every Opening Explained, Chess Lions, etc.
It become very convenient for users to get all databases in one place. Although this article is specifically reviewing Modern Chess, you should do your study before purchasing any Partner Product.
Although I have seen courses by AskAvrukh and Chess Lions, they are created by very strong Grandmasters GM Boris Avrukh and GM Ivan Cheparinov, and the quality is also very good.
Complete Solutions
In this section, Modern Chess provides a bundle of relevant courses. For example, they have a pawn structure bundle in which they have added multiple courses related to the Pawn Structure.
They sell it at much lower costs compared to individually buying the courses.
However, before buying any bundles, check your needs first. Sometimes we end up purchasing various courses which we don't need because of offers and discounts.
Live Camps
In lockdown, I attended one live camp, and it was a very good experience. They usually organize camps on specific openings in which coaches explain various plans and strategies.
You also get a Modern Chess voucher with it.
Although it is a good service, I suggest you buy their previous camp databases if you don't have a desire to attend the camp live. They sell it at a much lower price than the actual live camp price.
Tournament Calendar
This is a new feature launched recently. You can find worldwide tournaments from the calendar, and since it launched, it has been updated from time to time.
Pricing
Previously, they used to launch only databases (Only PGN files without videos). In the last couple of years, they also started to launch video courses.
The price of PGN file courses is around $20-30. (Much less after discounts)
The price of video courses is usually $50-90. The video courses are also downloadable files.
If we compare to different chess course sites, Modern Chess is definitely cost-effective. Following is the table where you will understand the difference between Chessable (The most famous and largest chess course-selling website) and Modern Chess.
We have also written a full chessable review, which you can read by clicking the following button.
How to save a lot of money by bulk purchasing?
Modern Chess often runs a massive sale of 60%, and they send emails regarding that. Mostly the sale runs on Saturday and Sunday.
Here is a hack with a screenshot of how much you can save
Step 1 – Add 5 courses to get a Maximum Quantity Discount
Step 2 – Use coupon code NIKHIL45 to get an additional 45% Discount
Check the following screenshot.

The original price of all courses is €315. After a 60% discount from Modern Chess, it became €126. On 126 Euros, we got a 20% bulk purchase discount and then a 45% coupon discount when we used Modern Chess Coupon Code Nikhil45.
In total, after the discount, we have saved more than 85%.
Best Modern Chess Courses
I have personally purchased all of Ivan Cheparinov's chess courses from Modern Chess. Also, they have really good courses created by the very famous chess coach Boris Avrukh.
When you are purchasing opening courses from any website (Modern Chess, ChessMood, Chessable, etc.), Check the launch date and update date.
If the last update date of the course is 2 years old, find the recent one. Opening theory evolves faster than the speed of light. It's better to purchase recently updated or recently published courses from the website.
In the above case, Modern Chess is a perfect solution as they publish 2-5 new opening courses every month.
My Personal Experience of Using Modern Chess
I have been using Modern Chess courses for the last three years. These courses helped me to get ready files and also helped me to get some new exciting ideas.
While writing this article, I saw that I purchased a total of 12 courses from Modern Chess in the last 3 years. (3 Camp databases and 9 Opening databases)
Storytime
I was playing a Dortmund Sparkssen Trophy 2023, and I got paired with an International Master from France. I have purchased Ivan Cheparinov's Kings Indian course from Modern Chess and prepared the line against it.
He played exactly that opening, and I got a very comfortable position and also a huge time advantage. Let's see the position in the following diagram.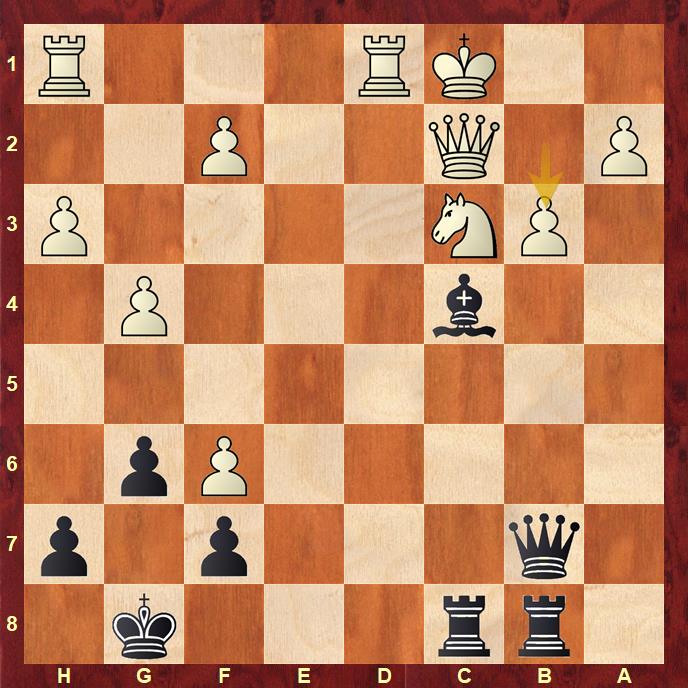 Cheparinov has analyzed everything, and my opponent played a B3 move (He should play Kb1 according to the database), which was a bad move. Although I was not able to find the right way to continue, the right way was Be2!! With an immediate better position for black.
Now, the line recommended by Cheparinov is very sharp and tactical. It also gives black a good edge.
Apart from this game, this course benefited me a lot personally.
Although, if you have already hired a chess coach, ask him for suggestions before any purchases.
Modern Chess Discount Code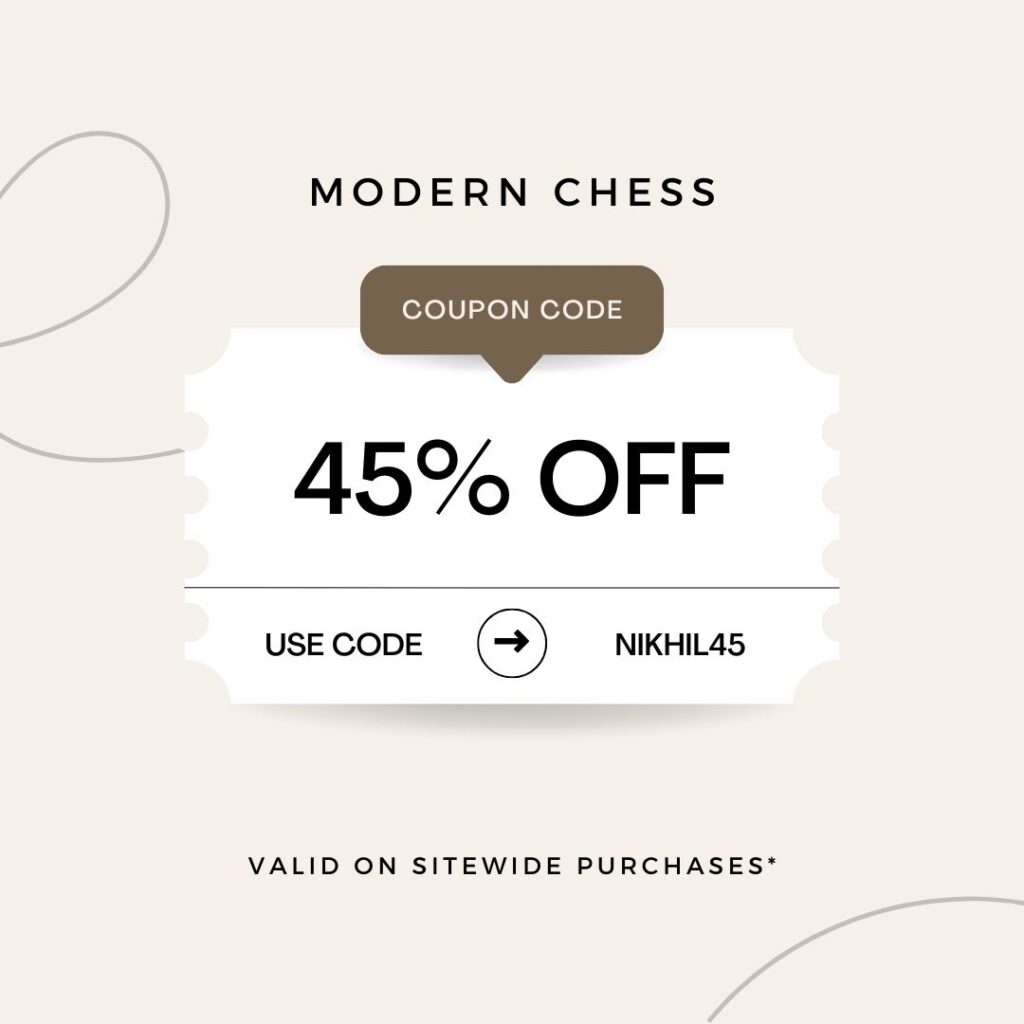 We have a special partnership with Modern Chess. You can use code NIKHIL45 to get flat 45% off on all Modern Chess Courses.
Modern Chess runs a 60% off sale on various occasions, and you get an additional discount of 45%
To maximize the discount, I recommend you buy 3-4 courses in the sale at a time so you get the following discounts.
Sale Discount (60%)

Coupon Code discount (45%)

Bulk Purchase discount (10-20%)
Who should purchase Modern Chess courses?
The Modern Chess courses are high-quality courses recommended for serious chess players who want to improve in Chess. I recommend anyone who is above 1400 FIDE Rated can purchase Modern Chess opening courses. Although middlegame courses, camps, and endgame courses are suitable for anyone.
Donate Us
Thank You for reading our blogs. We are an ad-free platform and want to serve you the highest quality blog posts all the time. We appreciate your support through donations.