3 Best Laptop for Chess Players
As a chess player, having the right tools at your disposal can significantly enhance your playing experience, improve your skills, and elevate your overall performance. One such vital tool is a laptop. A powerful and efficient laptop can help you run advanced chess engines, analyze games, train with sophisticated software, and engage in online competitions with players from around the world. In this article, we will discuss the best laptop for chess players, considering factors such as processing power, memory, display, and battery life.
Before buying any laptop, it is important to know some of the key factors which I have mentioned below.
Chessbase is the best chess software to study and prepare. If you want to be a serious chess player, you cannot prepare without chessbase software. Unfortunately, it is available only for windows users. That's why, in this article, we will only see windows devices.

It is recommended to buy a laptop with atleast 8 GB of RAM. RAM helps engines to evaluate better, and hence it will be useful in your opening preparation.

It should have a graphics card to run chess software.
If you choose any laptop with all the above-mentioned specs, you are good to go.
Now let's see the best laptop for chess players.
HP Pavilion 2022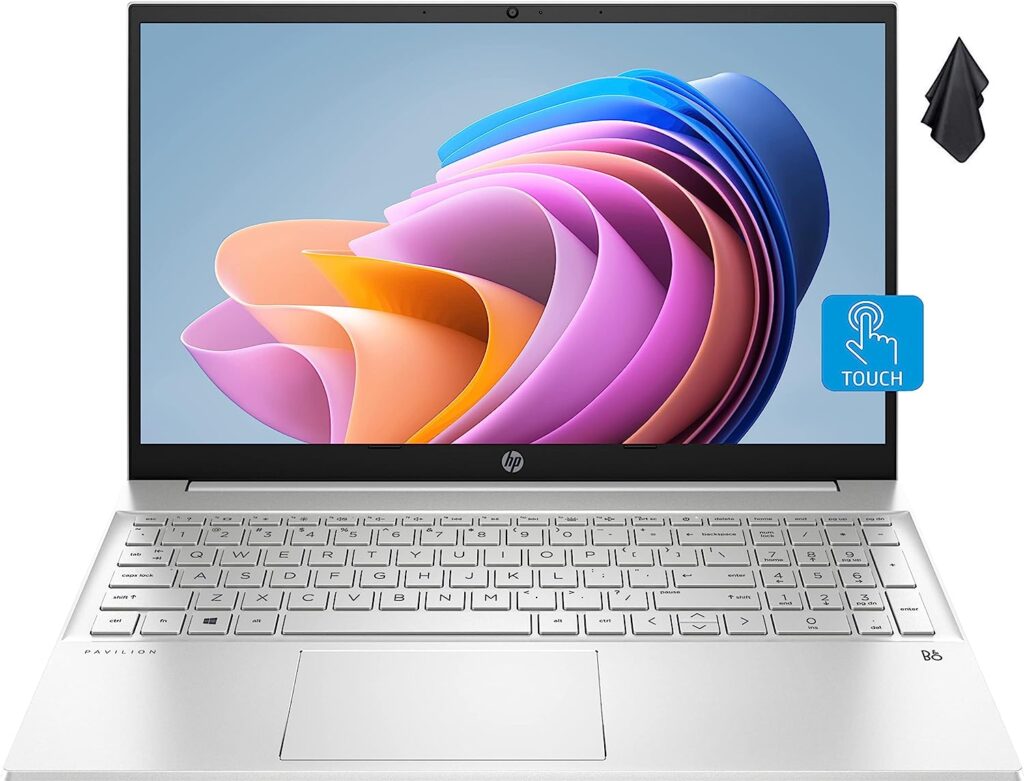 The 2022 HP Pavilion 15.6″ FHD Touchscreen Laptop is a powerful and versatile device, perfect for chess players and professionals alike. Equipped with an AMD Ryzen 7 5825U processor, it delivers exceptional performance, easily beating the i7-1180G7 in terms of processing power. This laptop's ability to run advanced chess engines, multi-task, and handle resource-intensive applications is further enhanced by the impressive 32GB high-bandwidth RAM, ensuring a smooth user experience.
The 15.6″ touchscreen IPS Micro-Edge BrightView FHD display is both crisp and vibrant, providing a superb visual experience for analyzing games, watching movies, or working on creative projects. With 250 nits of brightness, you'll enjoy clear images in various lighting conditions. The 1TB PCIe NVMe Solid State Drive offers lightning-fast bootup, data transfer, and ample storage space for all your games, software, and files.
Running on Windows 11 Home, the laptop comes with a variety of connectivity options, including a USB Type-C with Power Delivery, DisplayPort 1.4, and HP Sleep and Charge, ensuring compatibility with a range of devices and peripherals. The backlit keyboard is a welcome addition for late-night chess sessions or work, while the B&O Audio with dual speakers adds an immersive audio experience.
Dell XPS 13 9310
The Dell XPS 13 9310 Laptop is a remarkable device that combines impressive performance with stunning visuals, making it an ideal choice for chess players, professionals, and multimedia enthusiasts. Powered by an 11th Generation Intel Core i7-1195G7 processor, this laptop ensures fast and efficient performance, allowing users to run demanding applications and enjoy smooth multitasking with ease.
One of the standout features of this laptop is its 13.4-inch OLED 3.5K (3456×2160) InfinityEdge Touch Anti-Reflective display, which offers deep contrast and vivid colors. The Dolby Vision technology provides superior dynamic range, ensuring the brightest brights and darkest darks are beautifully rendered. The 400-nit brightness and 0.65% anti-reflective coating enable clear viewing even in bright environments.
The XPS 13 9310 comes with 16GB of 4267MHz LPDDR4x onboard memory and a 512GB M.2 PCIe NVMe Solid State Drive, providing ample storage space and fast data transfer. Killer Wi-Fi 6 AX1650 and Bluetooth 5.1 connectivity options ensure seamless internet and peripheral connections. The laptop runs on Windows 11 Home, offering the latest features and enhancements.
The Eye Safe technology intelligently manages light energy, reducing harmful blue light and maintaining color integrity. This integrated solution makes the Dell XPS 13 9310 a pioneer in eye comfort. 
Asus Zenbook Pro 15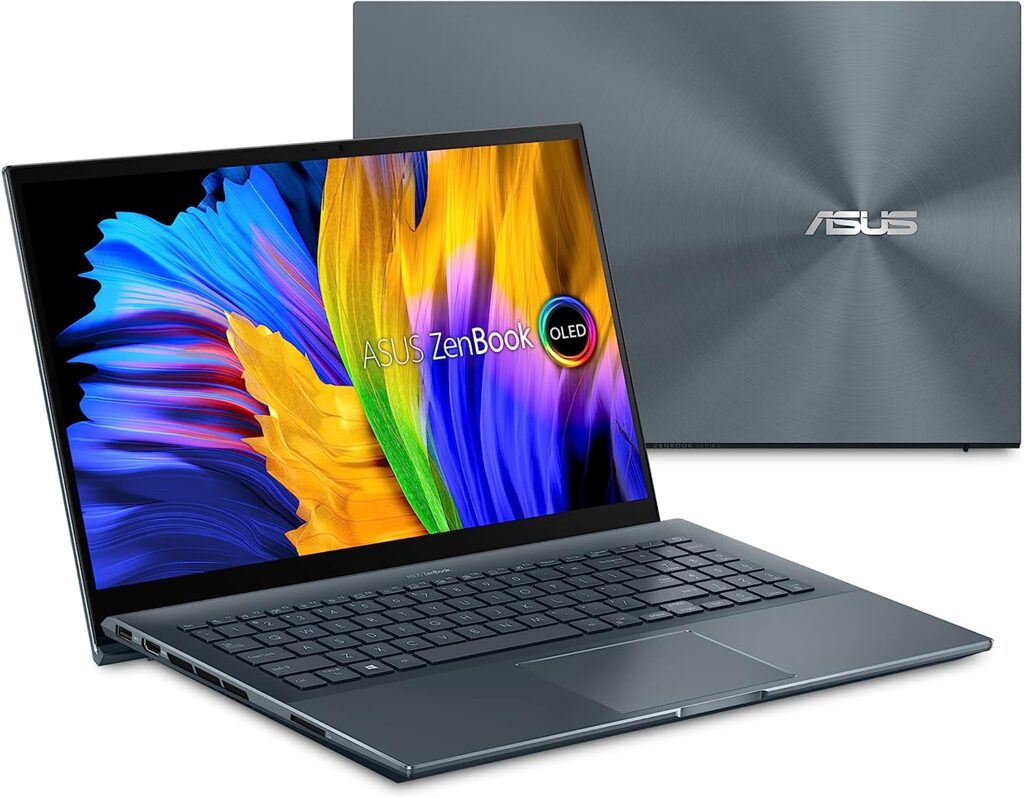 The ASUS ZenBook Pro 15 OLED Laptop is a fantastic option for creative professionals, chess players, and users who demand high performance and visual excellence. This laptop's standout feature is its 15.6-inch 400 nits FHD OLED NanoEdge bezel touch display, which delivers crisp, vibrant visuals and an impressive 88% screen-to-body ratio for an immersive viewing experience.
Under the hood, the ASUS ZenBook Pro 15 is powered by the latest AMD Ryzen 7 5800H processor with 8 cores and an NVIDIA GeForce RTX 3050 Ti 4GB GDDR6 graphics card. This powerful combination ensures smooth performance for running demanding applications, including advanced chess engines, video editing software, and gaming. The 512GB PCIe NVMe SSD and 16GB DDR4 RAM provide ample storage and memory for fast data transfer and seamless multitasking.
The laptop features an ErgoLift hinge and a backlit keyboard, making it comfortable to use in various environments. The built-in IR camera with Windows Hello offers a secure facial recognition sign-in option. Extensive connectivity options, including HDMI 2.0b, USB 3.2 Type-A, USB 3.2 Type-C, Wi-Fi 5, Bluetooth 5.0, and a 2-in-1 card reader, ensure compatibility with various devices and peripherals.
Weighing just 4.41 lbs, the ASUS ZenBook Pro 15 is both sleek and lightweight, perfect for on-the-go use. The MIL-STD 810G military standard ensures durability and reliability, while the included carrying sleeve adds convenience. With a complimentary 3-month Adobe Creative Cloud subscription, this laptop is an excellent choice for users seeking top-tier performance and unmatched visual quality.
How to Build your own Computer?
Building your own computer can be a rewarding experience, especially for chess players who require specific hardware to run advanced chess engines and training software. Follow this guide to create the perfect computer tailored to your chess needs:
Determine your requirements
Before purchasing components, understand the specific requirements of the chess software you plan to use. Consider processing power, memory, storage, and graphics capabilities. Remember to factor in future updates or new software you may want to run.
Choose a processor (CPU)
The CPU is the heart of your computer. For smooth performance when running chess engines, consider options like the AMD Ryzen 7 or Intel Core i7 latest generation, which offer impressive processing power and multitasking capabilities.
Select a graphics card (GPU)
While chess programs don't typically demand high-end GPUs, having a dedicated graphics card like the NVIDIA can improve the visual experience and support other graphics-intensive tasks, such as video editing or gaming.
Pick the right memory (RAM)
Memory is crucial for multitasking and running resource-intensive applications. Aim for at least 8GB of high-speed RAM to ensure seamless performance.
Opt for fast storage.
A solid-state drive (SSD) with a capacity of at least 512GB is recommended for quick boot times, fast data transfers, and ample storage for your chess software, games, and files. Consider a high-quality SSD for optimal performance.
Select a suitable motherboard.
Choose a motherboard that supports your chosen CPU, RAM, and GPU and offers ample connectivity options like USB 3.2 Type-A and Type-C, HDMI, and Wi-Fi 5 or 6. Make sure it is compatible with your chosen case.
Choose a display
A high-quality display is essential for analyzing games and enjoying multimedia content. Opt for a monitor with FHD or higher resolution, anti-reflective coating, and good color reproduction, such as an OLED or IPS panel.
Pick a case and power supply.
Select a case that accommodates your components and offers good airflow for cooling. Ensure your power supply unit (PSU) provides sufficient wattage for your build and has a high-efficiency rating.
Assemble your computer
Carefully install each component, following the manufacturer's instructions, and ensure proper cable management for a clean and efficient build.
Install the operating system.
Install Window's latest generation update drivers to ensure optimal performance.
By following the above procedure, you can easily build a computer on your own, which is customized according to you and also cost-effective. You can save 20-35% on costs. Many of the top chess players use their own high-quality desktops for chess preparation.
Which laptop do I use?
In December 2022, I purchased the Asus ZenBook, which has proven to be the perfect laptop for my chess preparation needs. I was looking for a moderately-priced yet powerful laptop, and I couldn't be happier with my decision.
The Asus ZenBook perfectly balances performance and portability, making it an ideal device for chess players like myself. The laptop's powerful processor ensures smooth performance when running advanced chess engines, analyzing games, and multitasking between various applications. The ample RAM allows me to run multiple programs simultaneously without any lag or slowdowns, which is essential during my training sessions.
One of the standout features of the ZenBook is its impressive display. The high-quality screen provides crisp visuals and accurate colors, enabling me to study chess positions and watch instructional videos with exceptional clarity. The laptop's lightweight design and portability also make it easy for me to carry it to tournaments and training sessions or simply use it on the go.
In addition to its exceptional performance for chess-related tasks, the Asus ZenBook has proven to be a reliable and efficient device for everyday computing needs. Its solid battery life, sleek design, and extensive connectivity options make it a fantastic all-around laptop for both my chess and non-chess activities.