6 Best Chess Sets Under $500
The game of chess has been played for centuries and is loved by people of all ages. A good chess set can make the game even more enjoyable and challenging. However, finding a high-quality chess set can be difficult, especially if you are on a budget.
That's why we have compiled a list of the best chess sets under $500 that are perfect for players of all skill levels. This blog will closely examine each set and what makes it an excellent choice for anyone who loves playing chess.
Best Chess Sets Under $500
Our Pick – Grand Kingdom Set
Magnetus Chess Self-Adjusting Tournament Chess Set 
The UNIQUE self-adjusting chess set is a premium quality, handmade chess set with a solid wooden Maple and Walnut chess board, 32 chess pieces, 2 extra queens, and a gift case. This set is perfect for speed chess and makes a great decoration piece.
It comes in a beautiful gift box and meets tournament regulations, making it an excellent gift for any chess lover. The Magnetus Chess pieces feature an elegant design with felted bottoms for protection, and the chess board has felt pads to prevent scratches on surfaces. This high-quality chess set is made in the USA.
Renaissance Knight Chess Recreational Classic Strategy Game Set
The Renaissance Knight Chess Set is an excellent addition to any chess lover's collection. The set includes a 13.5-inch square board with storage and a 2-inch-tall king.
The pieces are made using a mixture of pewter and a robust plastic material called polyresin. Measuring 15W x 15D x 5H inches, it's an excellent option for those looking for the best chess sets under $500.
LEGO Kingdoms Set Chess Set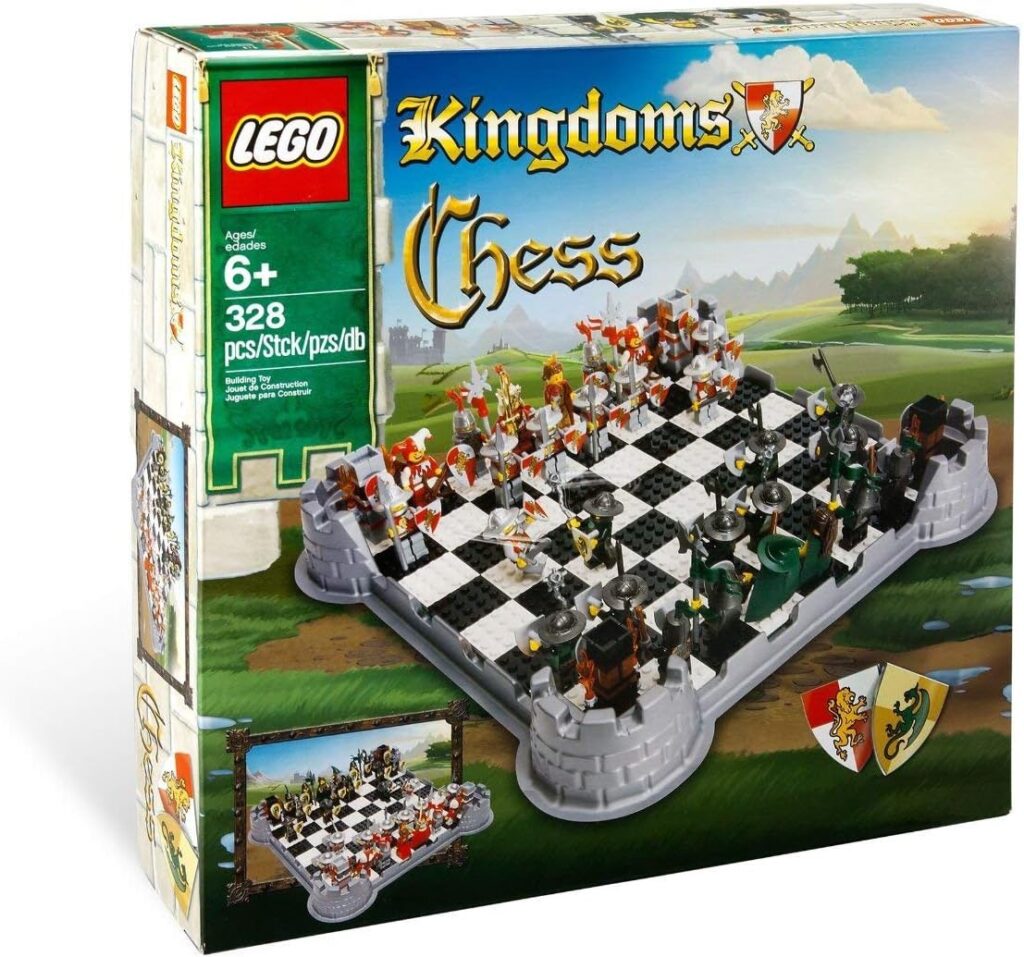 Experience the classic chess game in a new way with the LEGO Kingdoms Set Chess Set! This set comes complete with all 32 royal minifigures and their respective weapons and accessories, allowing you to fully immerse yourself in the medieval world of the LEGO Kingdoms.
With a black and white baseplate board to play on, you can strategically move your army into position and engage in epic battles with your opponent. When finished, store the pieces in the included storage box. This chess set is a must-have addition to your collection, perfect for fans of the LEGO Kingdoms building sets. Complete your collection with the 10223 Kingdoms Joust set for even more medieval fun!
The Mechanics Institute Chess Set
A premium quality chess set with a 4.25″ King Height and hand-carved pieces made of high-grade wood. The set comes with a beautiful Standard Traditional Striped Ebony/Bird's Eye Maple Chess Board and a Premium Chess Box that can hold chess pieces up to 4.4″ king height. It is one of the best chess sets under $500 that offers luxury and elegance to your gameplay experience.
The Reykjavik II Series Chess Set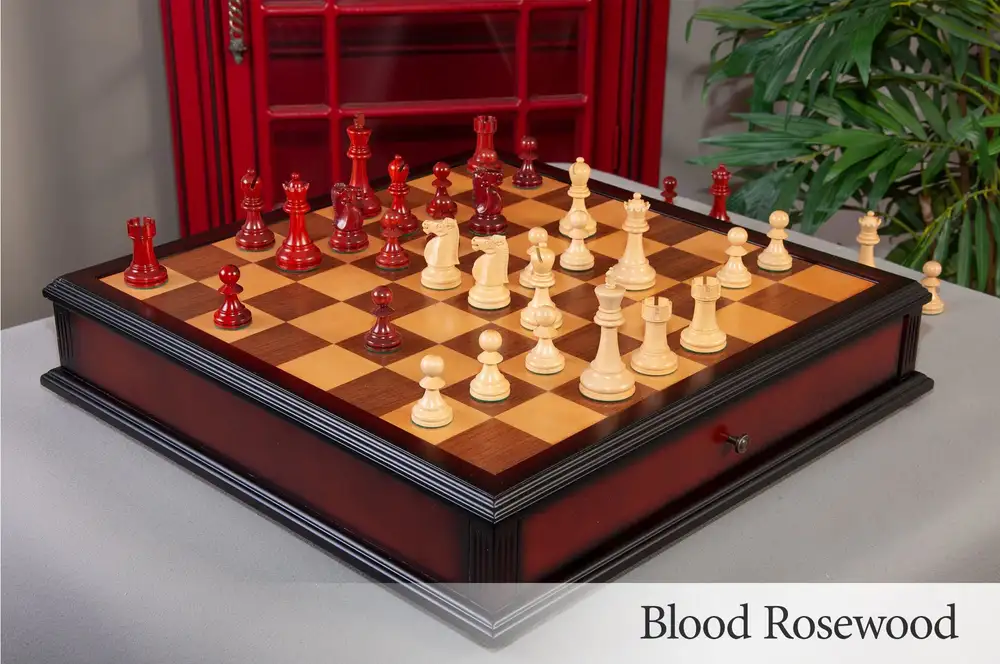 A tournament-size chess set with a historical design based on the 1972 World Chess Championship. The chess pieces are made by hand and have soft cloth pads at the bottom, and they look very nice with a shiny finish. The wooden chessboard features striped ebony and bird's eye maple squares with a coffee-wood delimiter and ebony frame.
The Queen's Gambit" Inspired Chess Set
Inspired by "The Queen's Gambit" series, this exclusive chess set includes a tournament-size chess board with Mahogany and Maple squares and a Mahogany frame. The hand-carved chess pieces, made of high-grade wood, are heavily weighted and have luxurious billiard cloth base pads.
The House of Staunton logo chess box can hold a complete set of chess pieces, including kings between 3 inches and 4.4 inches tall. It has two large storage compartments for each army of chess pieces.
F.A.Qs about Best Chess Sets Under $500
What are the typical dimensions of a chess set? 
A typical chess set includes a board that is 20 inches by 20 inches in size and pieces that vary in height, with the king measuring 3.75 inches and the pawn measuring 1.5 inches.
What are chess pieces made of? 
Chess pieces can be made from various materials such as wood, plastic, metal, and even glass, each with its unique feel and aesthetic.
What are the different styles of chess sets? 
There are many different chess styles, including traditional Staunton sets, themed sets like Harry Potter or Lord of the Rings, and even minimalist modern designs.
How much does a good quality chess set cost? 
A good quality chess set can range from $20 for a bare plastic set to several thousand dollars for a high-end luxury set made from rare materials like ebony or ivory.
Conclusion
Best Chess Sets Under $500 are available today, but not all are created equal. When finding the best chess set under $500, it's essential to consider factors like the material, design, and overall quality. Whether you are a beginner or an experienced player, a good chess set can help you improve your skills and enjoy the game even more. We hope this article has helped you find the perfect chess set for your needs and budget so you can start playing and mastering the game.
Donate Us
Thank You for reading our blogs. We are an ad-free platform and want to serve you the highest quality blog posts all the time. We appreciate your support through donations.