How to spot real and (fake) chess gurus
Visit Ranveer Mohite's Blog from here – https://ranveermohite.medium.com/
In my 12 year experience of being a professional chess player, I've seen it all — from the most brilliant minds to con-artists.
And it really disappoints me when I see someone paying literally a sack full of money — and getting a bad return on their investment. There are so many coaches available that it becomes difficult to choose the right ones.
This article is for parents who are looking for a chess coach for their kids or if you, as an individual, are looking for one. In the process, I also want to help the genuine coaches who are deeply interested in a student's development.
And I am a player. I know the good ones & the not-so-good ones.
With modern technology, it's quite easy to write an impressive resume & use photoshop. We all know wearing a good suit & a good written resume can make anyone pose as experts. Given the pandemic & the fact that chess is shifting online means it becomes only difficult to spot a fake coach.
And that's exactly what they do. What else do you need to polish your resume? Recommendations. Typed recommendation. That can be arranged as well. Typing a fake review with a fake photo isn't difficult at all. Scammers know this. And they do it.
Sometimes, coaches will even claim to be a GM when in reality he isn't even close to being one. A few coaches go to great lengths to even have newspapers publish about them. Yes, fake stuff being published about them. It's hilarious.
That being said, let me show you how you can spot a fake coach. Here are 5 things to check before you choose the right coach-
Check their profile on FIDE.com— This is the most important step. FIDE is to chess what FIFA is to football. If they don't have a FIDE profile, run away from them. One can fake a newspaper article, but one can't change their FIDE profile without doing the hard work. The FIDE database holds all chess relevant information of a player.
Let's check the most genuine FIDE profile, that of World Champion Magnus Carlsen —

Here you can check their FIDE profile. Just type in their name(first name + last name or vice-versa).
The higher the FIDE rating, the stronger the player. The highest is Magnus Carlsen hovering close to 2900.
A FIDE approved title or the rating of a player doesn't necessarily decide if they are a good coach. Teaching is a separate skill after all. But anyone who has a higher rating has a better chess skill.
This also translates to— The higher the rating, the more authentic the coach is likely to be. After all, they have a lot of reputation at stake. That being said, not all great coaches are GM. Some of the great coaches in the world are not even titled players but have a great ability to teach.
Scams are often run in the lower end of the rating scale, mostly under the 1500 FIDE Elo. By scam, I mean a bad value on your investment.
Anyone who is below 1500 & charging a ridiculous fee like $40/hr is a bad investment. In fact, you'll find a capable FIDE Elo 2500+ Grandmaster happy to work with you at $40/hr. You decide which one is a better investment for yourself or for your child's future.
Check their profile on major chess websites — Check if they have a coach account on these websites — chess.com or lichess.
Both of these websites have a strict selection process to get started as a coach. I trust chess.com more than lichess, but both of them do the work for you! Ask a potential coach to share his chess.com or lichess profile.
In the modern day & age, most of them will have either chess.com or lichess account.
If they have an approved chess coach account, they are most likely legit.
Here's how a LEGIT chess coach account looks like on chess.com—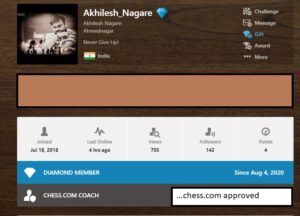 Know the difference in chess titles — There is a difference between GM & AGM, even though GM stands for grandmaster in both cases.
GM stands for Grandmaster title, earned through real hard work & dedication. A grandmaster is the highest title one can achieve in chess. A GM is rated around FIDE elo 2500.
AGM stands from Arena Grandmaster title, which is basically nothing but a disgrace to real GMs. An AGM can be anyone from FIDE elo 1600. Unfortunately, both are given by FIDE.
Both can be great coaches. I accept that. But there is a huge difference in the strength and elo of both of them as you can see — around 900 elo rating points.
In that case, by claiming to be a AGM, a person can charge you grandmaster level rates but won't provide GM level insights.
If you want to understand who really is a GM, Here's a foolproof system.
Go to FIDE.com, check their profile. Look for the title.
Check their profile on chess.com or lichess or chess24. These sites only recognize a real FIDE GM title(no FIDE arena titles) and they verify each & every titled player manually. A real GM account will have GM title before their name.
If the sites — FIDE, chess.com & lichess, display the GM title, then they are legit & real grandmasters.
Next time someone tells you if they are a GM, ask them if they are AGM or a real GM. Cross check the information with the above two steps.
The same goes for IM & AIM, FM & AFM. Titles without the A in Arena are usually stronger players & better coaches.
Ridiculous offers — The other day I heard stories from a friend of mine about a certain scam. Some coaches in his city charge $700 one time until the student gains 400 Elo points. I haven't even heard of any of these coaches during my entire chess life. No good coach I know offers "lifetime coach until this target is achieved".
Imagine tomorrow someone like Tony Robbins saying — "I'll coach you lifetime until you don't earn $1xxxx per month? No need to pay me until we achieve this."
What does it say about the coach? To me it looks extremely unprofessional.
Most genuine coaches offer an hourly package or monthly package. Maybe even yearly. But lifetime, I'm sorry I don't buy it. You shouldn't too.
And remember, at the end of the day, a coach is only the guiding light. Progress depends on you. The more committed you are, the faster you will increase your Elo rating. If you are giving you best, a good coach won't mind teaching an extra half hour. For good coaches, teaching is fun.
Beware of certain sentences — There are some sentences like
"I'll make you a FIDE rated chess player."
With FIDE lowering it's standard to get Elo rating, you only have to play FIDE rated tournaments to get a rating. It's not tough at all. Anyone who writes like that, should be coaching only how pieces move, not real chess tricks & strategies.
If the above sentence is their selling proposition, they are basically selling you air. Thin air.
Be careful when you read the reviews — This one I agree is quite difficult. Reviews matter & they are important. But to be very honest, I have seen some coaches write fake reviews about themselves. In fact, they've even gone a step further by making daily newspapers talk about them.
Most coaches don't do it. But a few of them do. This makes it very difficult to distinguish between a good coach & a great campaign. Therefore whenever you read reviews, understand that there is a possibility that they could be fake.
First try to understand if the person who is giving the review is genuine or fake? Type their name in google. Look for their FIDE profile. It should give you a clear idea.
These are a few ways which can help you be safe differentiate between real & real fake coaches. I hope you found them useful.
Good luck in finding the right coaches.