Chessify Review: Is Chessify Worth it?
Chessify is a cloud engine tool accessible on their website, or you can connect it to Chessbase-like software. Chessify is a game-changer software in cloud engine technologies.
I have personally using chessify (Master Plan) for the last few months, and in this article, we will go deep into it, and you will get a in-depth chessify review.
Disclaimer – This is not a paid review by Chessify or any other brand. These are the authors' (FM Nikhil Dixit) personal views. If you decide to purchase, we may earn a small affiliate commission on it without charging any extra amount to our readers.
Chessify also has its app on the Play Store and App Store, but the functioning is completely different. The app is known for the scanner where you take an image of the chess board, and chessify fetches into the app where you can continue the position from mobile.
Anish Giri and Levon Aronian as their brand ambassadors. According to the chessify website, 200+ grandmasters used chessify engines which I think is quite true.
What is Cloud Chess Engine?
A Cloud Chess Engine is a type of chess engine that runs on remote servers or in the cloud rather than on a local computer. A chess engine is a computer program that analyzes chess positions and makes intelligent decisions about the best moves to play. It uses various algorithms and strategies to evaluate the current position and search for the best move.
Players don't have to install any engine or software, so it saves a lot of space and RAM usage. Also, laptops have limitations, and that's why we can't use high-quality, powerful engines. 
Benefits of using the Cloud Chess engine
Access to powerful computational resources: Cloud chess engines are often hosted on high-performance servers with significant computational power. This allows for a deep and thorough analysis of chess positions, providing more accurate move suggestions and evaluations.
Availability and convenience: Cloud chess engines can be accessed from various devices with an internet connection, including smartphones, tablets, and computers. This accessibility allows users to play and analyze chess games on the go without being limited by the hardware capabilities of their local devices.
Collaborative analysis: Cloud chess engines often support collaborative features, allowing users to share and analyze chess positions with others in real time. This can be particularly useful for training, studying games together, or solving puzzles as a group.
Integration with online platforms: Many cloud chess engines integrate seamlessly with online chess platforms such as chessbase, Fritz, etc., allowing users to play against the engine directly or connect with other players for online matches. This integration enhances the overall chess experience by providing a wide range of opponents and game formats.
Access to large databases and endgame tablebases: Cloud chess engines often come with extensive opening book databases and endgame tablebases, which can significantly aid in opening preparation and endgame analysis. The engine developers typically update and maintain these resources, ensuring accurate and relevant information.
Scalability: Cloud chess engines can handle multiple users simultaneously and can scale their resources based on demand. This means that even during peak usage times, users are less likely to experience slowdowns or delays in receiving analysis results.
Chessify Pricing
Chessify comes with three simple pricing plans, which are the Amateur Plan, Master Plan, and Grandmaster Plan. Each paid plan comes with different chess engines such as Stockfish, Tablebase, 9 Million+ Games Database, and Video Search.
Let's see it one by one.
Amateur Plan
Amateur Plan comes with a 10 MN/s speed and cloud storage of 500 PGN games. You also get access to all 9 million games, which you can use from the chessify web app directly.
The server speed is 10 MN, which is very decent compared to what our laptops provide.
Master Plan
Master Plan comes with a 25-100 MN/s speed and cloud storage of unlimited games. The master plan is the best plan on chessify. I have personally purchased a master plan for more than 6 months.
I downloaded Stockfish 16 on my computer, and at the same time, I was using the chessify cloud Stockfish 16 engine with Master Plan. Definatly chessify cloud engine showed better results. More like a practical move recommendation. It's the perfect to build your opening repertoire.
Grandmaster Plan
Grandmaster Plan has the same features as the master plan except for one plan, which is Unlimited LCZero 100MN/s. This plan is targeted at very strong chess players, mostly Grandmasters or serious opening masters.
The pricing is $100 per month and $1199 per year. Definitely an expensive plan. But if you are a strong player, it's definitely worth it, especially for opening preparation.
The main advantage of this plan is you get the highest quality engine access (Leela Zero).
Those who purchase the Yearly Master or Yearly Grandmaster plan get a 1-hour free coaching class with a Grandmaster.
Super GM Plan
For $15000, you will get 6M chessify coins and unlimited server speed up to 25-100 know.
Effectively, you are getting each coin for $0.0025 per coin, and if you purchase a small amount of coins, you will get it at approximately $0.01 per coin.
This plan is perfectly suitable for content creators. For e.g. for those who are creating high-quality opening courses.
Even this plan is suitable for seconds who are working for world-class players. Obviously extremely expensive enterprise-level plan by chessify.
Most of beginners will think that it's a joke, but believe me, it's a useful plan even for top-level chess players.
Following is the pricing chart
| | | |
| --- | --- | --- |
| | Monthly Pricing | Yearly Pricing |
| Free | 0 | 0 |
| Amateur Plan | $7.99 | $79.99 |
| Master Plan | $34.99 | $349.99 |
| Grandmaster Plan | $100 | $1199.99 |
| Super GM Plan | – | $15000 |
Apart from this pricing, you can buy chessify coins. Following are the pricing plans if you want to purchase coins and membership together.
About Chessify Coins
Those who don't spend much time opening or want to use a high-end chess engine can purchase chessify coins. Chessify coins are similar to Chessbase Ducates.
The pricing of Chessify Coins starts from $5/500 coins. You have to spend anywhere between 10-30 coins to use a decent engine and 80+ coins to use a very advanced engine.
So for $5, you can use the chessify cloud engine for around 8-25 min, depending on which engine you are using.
Most people will use a decent quality engine, which is available at master plan, and this is why a chessify subscription is a very good investment.
The only drawback about chessify coins is that they will still deduct if you are in idle mode. For example, if you forget to switch off chessify coins and go for 1 hour for a walk, you will lose coins for 1 hour.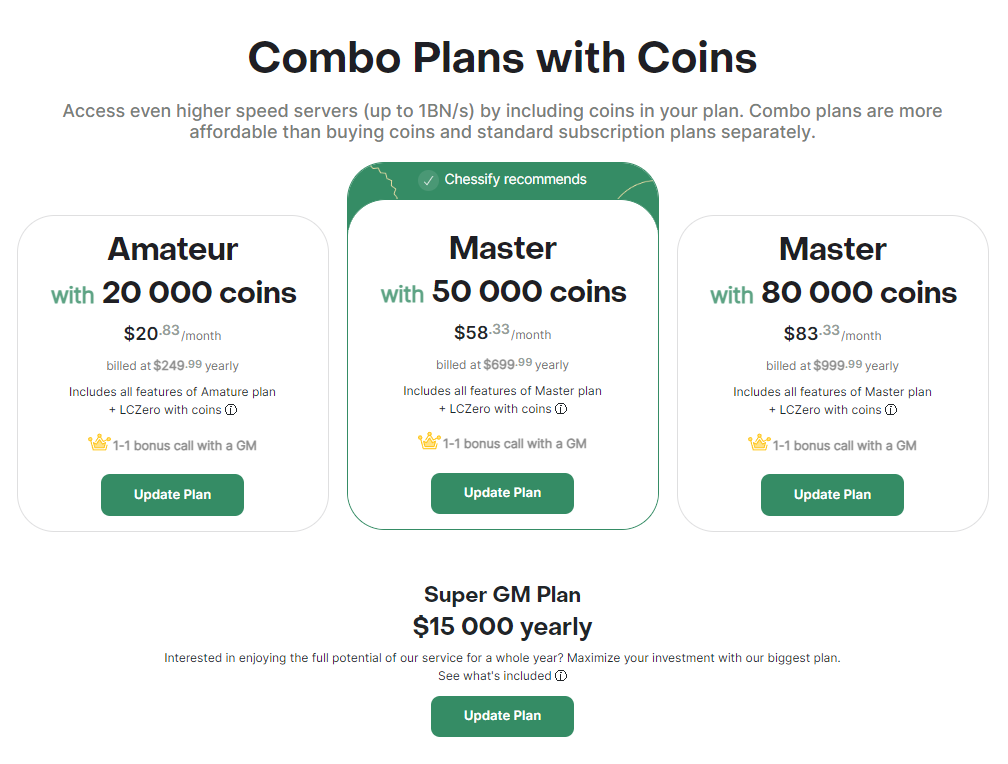 Chessify Features
Chessify comes with unique features. Following are some of the best features which they offer.
Top Engines
You get access to different engines like Stockfish, AsmFish, SugaR AI, Berserk, Koivisto, RubiChess, and ShashChess. In the Grandmaster plan, you also get access to Leela Zero.
Cloud Servers
Fast & Secure: up to 1 BN/s for Stockfish, 100 MN/s for LCZero, 130 MN/s for asmFish, SugaR AI, Koivisto, and Berserk. You can access up to 100 MN/s with their membership plan. If you want to use more powerful engine strength, you have to use chessify coins.
Online Database
Explore openings, find games, and prepare against any opponent with the biggest online chess database of over 9 Million games.
Endgame Tablebase
We use the 6-piece Syzygy tablebase to allow our engines to find perfect play when up to 6 pieces are on the chessboard.
Cloud Storage
You can save and analyze games on the website directly. This feature is not really useful if you are already using chessbase. Because I personally found it too difficult to use on the web.
Unlimited access with membership
You get Unlimited access to the cloud engine with the membership. Membership is a very useful feature for aspiring and professional chess players. If you use chessbase ducats or chessify coins, it will easily consume a lot more.
To Whom is Chessify Suitable?
In general, I would recommend chessify for 1400+ FIDE Rated players. If you are a below 1400-rated player, using a free version of Stockfish is better. Even if you don't use the engine, it's fine.
Professional Players
If you are a professional chess player or trying to achieve some master-level title, chessify is for you. If you use it properly, you will get many new ideas from your games, and your understanding will improve a lot.
Getting a chessify Master or Grandmaster plan will be a great investment for professional players.
If you are planning to purchase any chess course, this membership is valuable to cross-check.
Opening Nerds
For those who like to study chess openings and also find some novelties, chessify is the best.
Content Creators
For content creators who create opening content and content that includes a lot of analysis, chessify is the best. Even I believe that chessify can save you time and provide high-quality engine moves.
Should you purchase Chessify Membership?
Again, as I said previously, purchase if you are a 1400+ FIDE Rated player; membership is a far better option than chessify coins. Believe me, sometimes, unknowingly, we keep the cloud engine on, and suddenly, you will lose all of your coins.
It's better to purchase a membership with a master plan for everyone from 1800 to 2400 rated players.
Honestly, you will not feel that you have improved a lot after using chessify. It's not a chess coaching session or a chess course from which you learn something.
You will get long-term benefits by getting good moves compared to your local engine, some small improvements in openings, etc. It's like a small change makes a bigger effect.
If you are below 1400 chess players and want to improve your game through analysis, you can check simply using chess.com or the lichess engine. Even not using any engine is also a good option at that rating.
What is the difference between ChessBase and Chessify?
Chessbase is a software where you can save games, create folders, organize databases, and so much more. Chessify is a cloud engine company and not offline software.
Chessbase also has its own cloud engine feature, which you can access from Playchess by purchasing educates. Ducates are the same as coins on chessify.
How fast is Chessify?
According to my experience, their website interface is quite slow and very difficult to understand. Also, when you open it via chessbase, it takes a few seconds to load. Overall, they can work on speed improvement and also designing simple UI/UX.
If you use any cloud engine, it will take time to load and connect to servers. But still, it should be improvised.
Overall, Chessify is a worthy investment for serious chess players.
Donate Us
Thank You for reading our blogs. We are an ad-free platform and want to serve you the highest quality blog posts all the time. We appreciate your support through donations.