Chess.com Premium Membership: Is Chess.com Membership Worth It? (2023)
Chess.com is no doubt the greatest website ever. In 2022, they also acquired Play Magnus group. They have changed their pricing plans from 1st Sep 2022. This is the first time they have changed it since 2009. By the start of 2023, they have crossed 100 million members on chess.com.
Even new pricing plans give a lot of benefits and even become better than old ones. In this article, we are going to see a detailed comparison between all the chess.com premium membership plans and also alternatives of it.
Chess.com Premium Membership is completely value for money. They offer 3 plans in this premium membership i.e. Gold, Platinum, and Diamond.
I would highly recommend chess.com Gold membership to everyone. Gold membership includes all the features which are required for every chess player. If you are a chess coach, go for a Diamond membership. Let's discuss all the types and features chess.com membership offers.
Chess.com provides 7-day free trial in which you can try all premium features for FREE.
Tiers of chess.com Premium Membership
Chess.com provides 3 membership tiers i.e. Gold, Platinum, and Diamond Membership. Gold Membership is basic tier membership, Platinum is middle tier membership and diamond is the most premium membership which includes every available feature.
Although some features are exclusively available for title players and streamers they cannot be accessed by even diamond membership holders.
This feature includes Titled Tuesday, Rapid Chess Championship, Speed chess championship, bullet chess championship, etc. If you are a titled chess player then you can verify your title here. All title players including GM, IM, FM, CM, NM, WGM, WIM, WFM, and WCM get a free lifetime diamond membership.
Cost of chess.com Premium Membership (New)
They have changed their pricing with effect from 01.09.2022. Their new pricing and features changed massively which we will see in the next point.
Currently, you can choose your membership tier on a monthly or yearly basis. The monthly price is quite high compared to yearly pricing.
Let's see new pricing and changed pricing in the following chart
| | | |
| --- | --- | --- |
| | Monthly | Yearly |
| Gold Membership | $6.99 | $49 |
| Platinum Membership | $10.99 | $79 |
| Diamond Membership | $16.99 | $119 |
You can see that you will save almost 50% if you purchase a yearly plan. In the old pricing plan, gold membership costs $29 yearly, and diamond membership costs $119. Although diamond membership hasn't changed a lot gold membership pricing plan almost doubled.
Now Play Magnus also merged with them, chess.com now owning chess24, aimchess, new in chess, gambit publication, Magnus academy, and chessable. It is interesting to see how they improve and promote all these brands. 
Features of Premium Membership
From the 2022 new pricing plan, chess.com made a big change. They have included video series open for every tier. Previously it was only for Diamond Membership. Following are some of the features which are included in every tier.
Also, they have included many Gold membership features that were previously available only for Platinum and Diamond Membership.
Video Library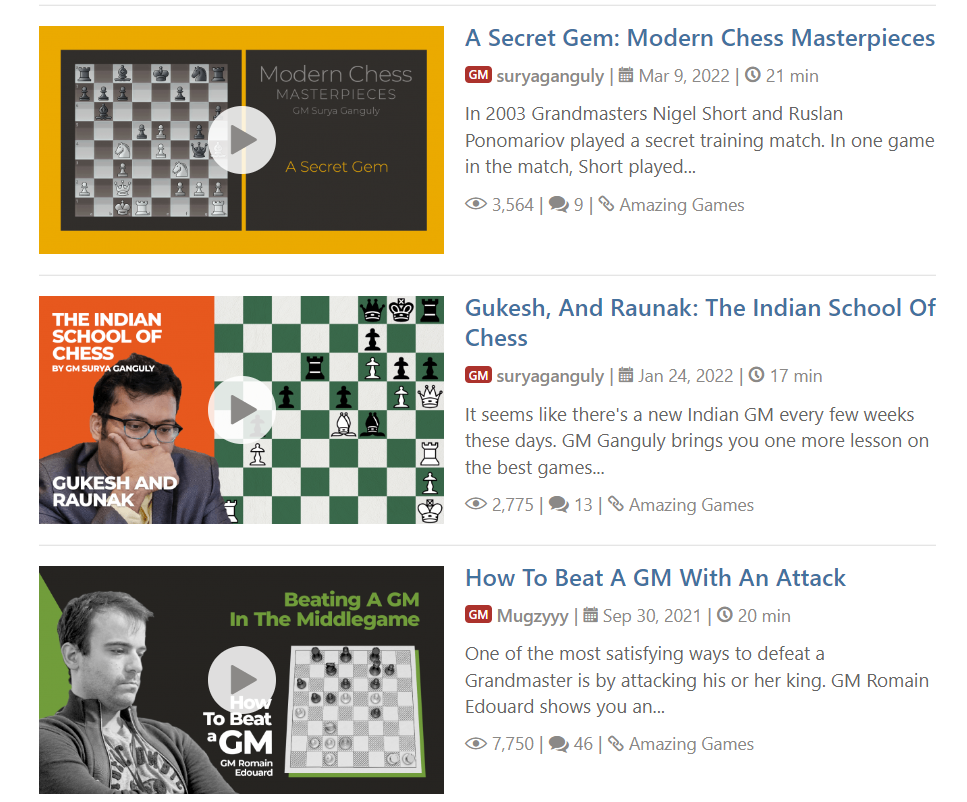 This is one of the greatest assets chess.com own. You will find thousands of videos by many renowned grandmasters including Shakhriyar Mamedyarov, Vishy Anand, Surya Shekhar Ganguly, etc.
Their video library consists of almost every aspect including opening, middlegame, and endgame. This is perfect for players ranging from unrated to 2200. Even some videos consist of advanced levels which are suitable for FMs and IMs.
Previously videos are only available to Diamond membership holders but now it's available for everyone who owns a premium membership.
If you compare this with any other chess website which has there own video library, you will see a price difference. These websites are normally charging anywhere between $20-50 per month whereas chess.com comes with the unbelievable price of just $49 per year.
If you are a beginner, you will just need a Gold Membership of chess.com and you are good to improve chess at a rapid pace.
Unlimited Puzzles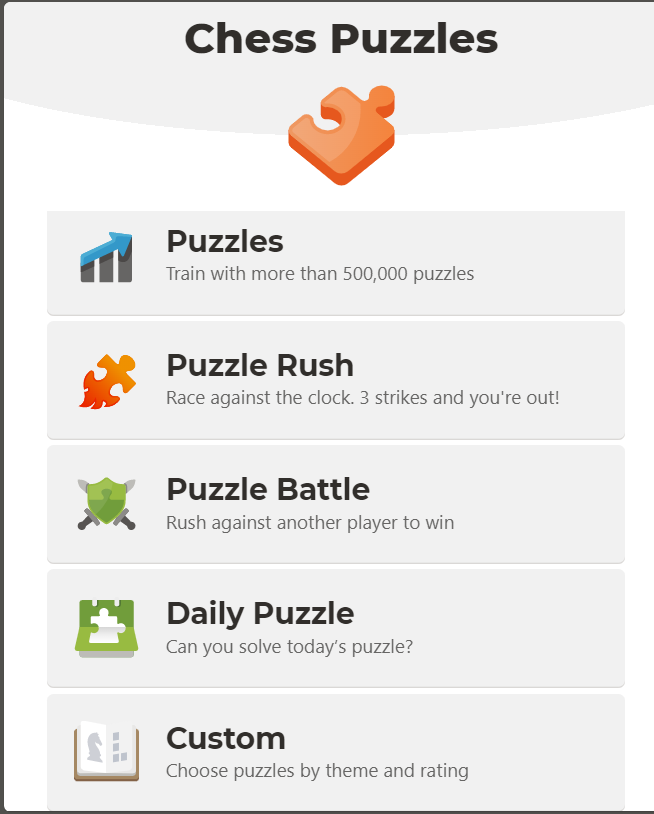 Again a very good feature where you can test your brain. I always recommend my students solve chess tactics as much as possible. Chess.com's tactics are by far the best compared to other websites. They have a good quality AI which understands your level and gives you similar types of puzzles accordingly.
If you are looking to improve your level, I would highly suggest solving atleast 10 puzzles each day. Within 30 days, you will see a drastic change in your level.
Unlimited Puzzle Rush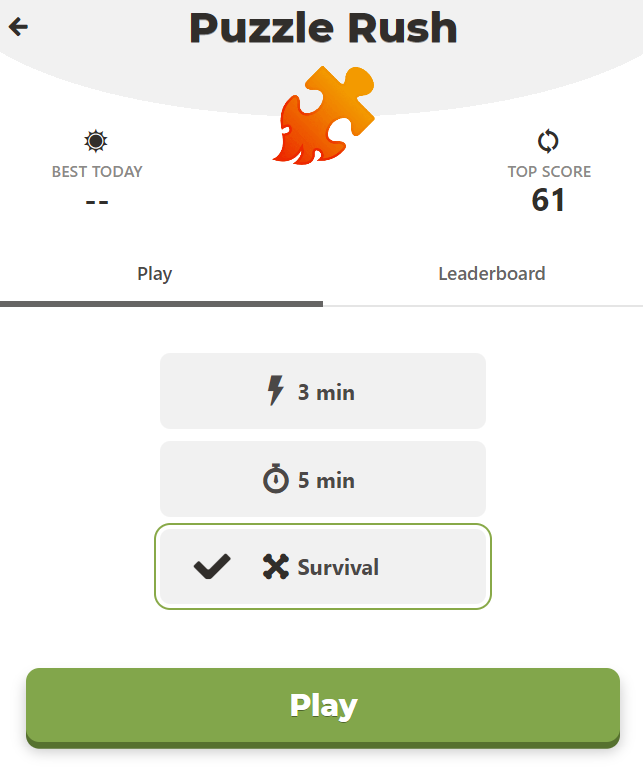 Puzzle Rush is an exclusive feature of chess.com. In puzzle rush, there are 3 types. 3 min, 5min, and no time limit. You have to solve puzzles in a selected time frame unless you make 3 mistakes.
Puzzle rush is great to generate interest in chess for kids or beginner chess players. You can also play puzzle battles with your friend and compete with them.
You will get to solve unlimited puzzle rush in all premium membership tiers.
Ad-Free Experience
This is the basic feature that should be there. Ads are always annoying and you will get rid of that by purchasing this membership. If you play regularly on chess.com, it is worth investing $49 only not to see ads.
Access to All Computer Personalities
This is another exclusive feature available on chess.com/ This feature is a favorite for kids. They like to play with computer and chess.com have 100+ computer personalities with different level and skillset. You can play and compete with them to improve your game.
Although, it is not recommended to play against a computer when you can play against a human. But at the same time, it is a great way to play against a higher level. Usually, you will not get paired with a player who is 400-500 points higher than you. In that scenario, you can play against the computer.
All Drills
Drills are also a very good way to improve your chess. Chess.com drills are a set of positions that you can play against the computer. Drills consist of 100+ positions which are mostly based on endgames.
This is a great way to study the position first and play against the computer and analyze it with the engine to understand your mistakes.
Custom Flair

You can also add custom flair with your username. Custom flair includes many emojis which you can see in the following picture.
Gold Membership Features
We have already seen features that are included in every membership tier. As gold membership is the basic tier, you will get the features mentioned above and a few extra features which you can see from the following image.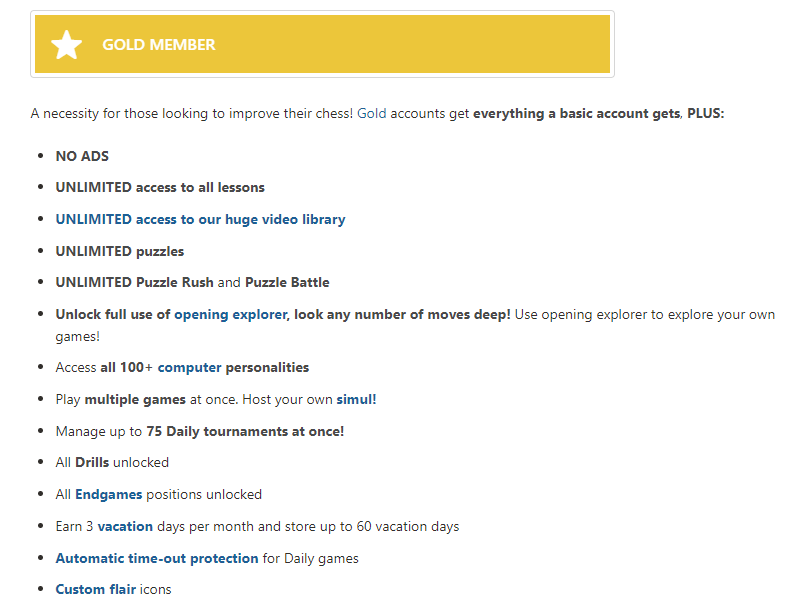 Platinum Membership Features
Platinum membership focuses mostly on the analysis part. You get unlimited game reviews and analyses with the friend feature. Also, you will get unlimited lessons.
Unlimited Lessons
Chess.com lessons are also a great feature. You will get unlimited lessons in chess.com platinum membership. Lessons are also a good way to improve your chess. Also, all beginner lessons are free in the Gold tier. This is a good way to improve your chess with videos and lessons once you have a platinum membership.
Lessons are created by the world's best chess players.
Unlimited Game Review and Analysis
You can get a game review with chess.com platinum membership. In-game review, chess.com AI will tell you about your mistakes, blunders, brilliant moves, good moves, and excellent moves and also provide you with some annotations.
Game review is a great feature for players who want to improve their game. But honestly, this is the only good feature you get from platinum membership from the players' point of view. For platinum membership, they are charging $80 per year which is $30 more than gold membership.
If you are going to use then go for a platinum membership. Otherwise, a gold membership is a very good deal.
Analysis With Friends
This is also an extra feature that comes with the platinum membership. Again you will need a friend to use this feature and also he also needs a platinum membership. Effectively this is not that useful when there are many options available such as zoom, skype, and google meet.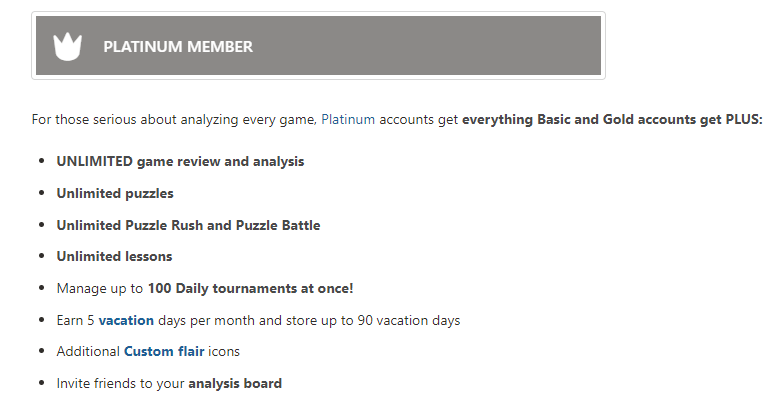 Diamond Membership Features
Classroom Feature
Chess.com provides the greatest feature of the classroom for chess coaches. Chess coaches can create a classroom to teach students where they can import games, chat and also share the library. The classroom also includes video and audio features.
Students can also move their pieces on board and the coach can see them. This is a great feature to take private and group classes.
Chess.com created the best ecosystem for chess coaches where you can list your coach page, promote that by writing blogs, creating a library of best games, creating clubs, embedding your youtube videos, and taking classes on the same platform. Also, they provide affiliates to coaches where you can earn money if your student took any chess.com premium membership.
Unlimited Game review plus coach explanation
This feature is also included in platinum membership but you also get a coach explanation which is an additional feature.
Access to insight features
You will get all insights created by artificial intelligence where you get detailed reports from your past chess.com games. This is also a great feature for professional chess players to understand their mistakes, weaknesses, and strengths.
I would highly recommend checking insights from your games and you can work accordingly.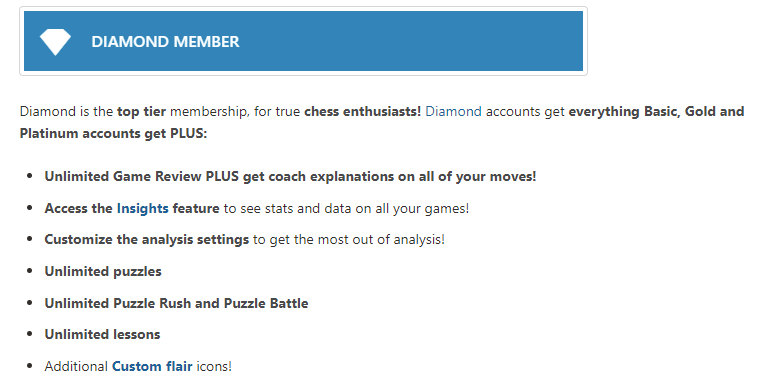 Chess.com Gold vs Chess.com Platinum vs Chess.com Diamond
The following table will help you to understand the exact difference
| | | | |
| --- | --- | --- | --- |
| Features | Gold Membership | Platinum Membership | Diamond Membership |
| Puzzles | Unlimited | Unlimited | Unlimited |
| Puzzle Rush | Unlimited | Unlimited | Unlimited |
| Lessons | 3 per week | Unlimited | Unlimited |
| Video Library | Unlimited | Unlimited | Unlimited |
| Price | $49 | $79 | $119 |
Is chess.com membership worth it for unrated players?
Absolutely yes! If you are an unrated player, go for chess.com Gold Membership. You will get everything a chess player needs! This is the best membership ever for unrated chess players.
If you are an unrated player, I will highly recommend you solve tactics and watch lots of videos from the video library. If you are particularly interested in lessons then go for Platinum Membership.
For unrated players, Diamond membership is not worth $119 per year. Instead, you can take a few personal classes from a chess coach.
How to Get a Chess.com Membership for Free?
Chess.com offers a 7-day free trial to everyone. You can sign up and take advantage. Another option is to join various chess clubs on chess.com where they organize tournaments and you can win membership as a prize.
Titled players also get chess.com Diamond Membership for a lifetime.
Chess.com Membership Alternatives
There are multiple alternatives for chess.com which also provide high-quality products. Some of them are as follows
Chess24
Chess24 is a part of Play Magnus Group and they also offer a premium membership which costs roughly $100 after applying a coupon code. Chess24 offers a wide range of video series recorded by world-class players. They also offer other features such as unlimited puzzles, banter blitz, etc.
Chess24 membership is worth it for serious chess players. If you are below 2000 rated player then go for chess.com Gold or Platinum membership.
Lichess
Lichess is an open-source website that is completely free forever. Lichess is also one of the best websites in terms of playing interface. They also have a very clean and neat design. Although lichess is free, they offer limited features compared to chess.com. Although if you are not looking for video courses then try lichess first. Lichess is quick and superfast.
Lichess also offers team features and also you can create tournaments quickly. Other platforms don't offer this type of ease.
ChessMood
I have already written a detailed article on ChessMood membership. Chessmood is also a great platform where you can interact with Grandmasters by paying a monthly subscription fee. ChessMood pricing starts at $29 per month and goes to $49 per month.
Again ChessMood is a different community of like-minded people who want to build a relationship with other chess players. It is more like family than just a membership,
Although, ChessMood pro pricing is almost 10x than chess.com Gold Membership. This is a lot of price gap. Also, chess.com now provided video library access to all members.
Conclusion
I would highly recommend Chess.com Gold Membership for every user. There is almost everything you need in their gold plan. Although if you are an intermediate chess player then you can think of platinum membership as they offer unlimited lessons.
For all chess coaches, I would recommend diamond membership and also try the chess.com classroom feature.
I would not suggest purchasing a diamond membership directly. First, try a gold membership for 2-3 months. I am sure that 90% of people will get satisfied with Gold Membership also it is very cheap.