ChessMood is a video course website started by GM Avetik Grigoryan. Their main aim is to provide high-quality chess courses. In this article, we will see a detailed ChessMood review and also whether it is worth or not to purchase a membership.
ChessMood runs on a subscription model. You have to pay a monthly fee to access all content.
Recently, they also got decent funding and we can expect more and more high-quality content from them. 
ChessMood also offers a 7-day free trial after signup. 
In my opinion, purchasing ChessMood Essential Membership worth the money. Although it is better to purchase a ChessMood membership 3-4 times in a year and consume all new content. 
Their opening courses are in-depth and also tried and tested by Grandmasters. You will also get PGN files to download. 
Founders of ChessMood
ChessMood is founded by GM Avetik Grigoryan. They have a team of Grandmasters who are from Armenia. 
Their team consists of the following 7 Grandmasters. The first 2 are core members of the team. 
GM Avetik Grigoryan

GM Gabuzyan Hovhannes

GM Hrant Melkumyan

GM Robert Hovhannisyan

GM Samvel Ter-Sahakyan

GM Johan Hellsten

GM Zaven Andriasian
Pricing Plans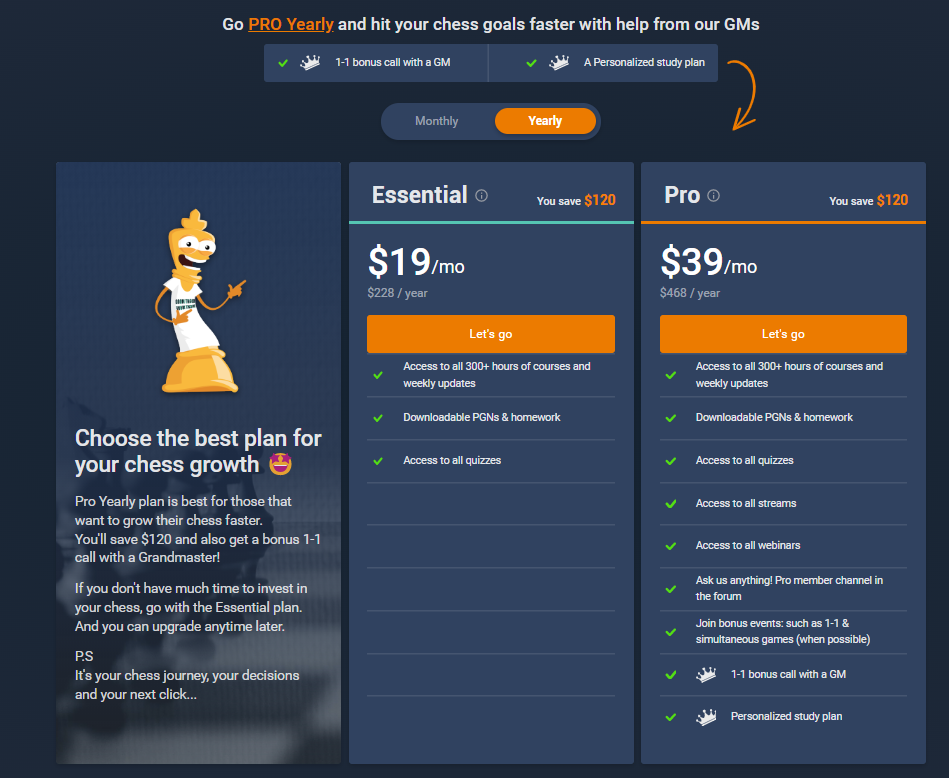 ChessMood offers 2 types of Pricing Plans, Essential and Pro. The essential Plan starts at $19 per month and the Pro plan starts at $39 per month. 
ChessMood Pro's yearly pricing plan is the most expensive compared to any other chess website. 
Let's see each plan individually.
Essential Plan
Essential Plan costs $29 per month or $228 per year if choose a yearly plan. In this plan, you will get access to all Video Courses, Downloadable PGN, and access to all Quizzes.
This course is value for money for all chess players. 
The best way to use this plan is to take this monthly plan quarterly and use consume all the content in that month. Suppose you take this plan one time in each quarter, then it will cost you just $116 (Saving more than $100 compared to the yearly plan)
Pro Plan
Pro membership starts at $49 per month or $468 per year. This membership offers all essential benefits plus access to all streams, webinars, and forums. 
If you purchase a yearly plan, you will get free 1-1 sessions by Grandmasters and a personalized study plan.
Although, they haven't provided a demo of the personalized study plan. 
Again paying $468 for this membership seems expensive compared to the features they offer to us. 
Instead of paying for a yearly membership, get ChessMood Essential for one year + Chess.com Platinum membership for 1 year, and Chess24 premium membership for 1 year. Still, you will save around $50. 
Features of ChessMood
Following are the features of the ChessMood website which include premium as well as free features. 
Call with Grandmaster (For yearly subscribers)
After paying $468 for a ChessMood membership, you will get a 1-time call with Grandmaster. It is also a great way to discuss your journey with them and also they can assist you better in deciding your study plan. 
Usually, if you hire a good chess Grandmaster, it will cost you anywhere between $60-$100 per hour. 
Video Courses
This is the biggest feature ChessMood has. They created a lot of Video Courses for all levels of players. Especially there opening video series is excellent. 
All video courses are suitable for the rating range of 1000-2500 players. Team ChessMood also plays the same opening lines in their online chess games.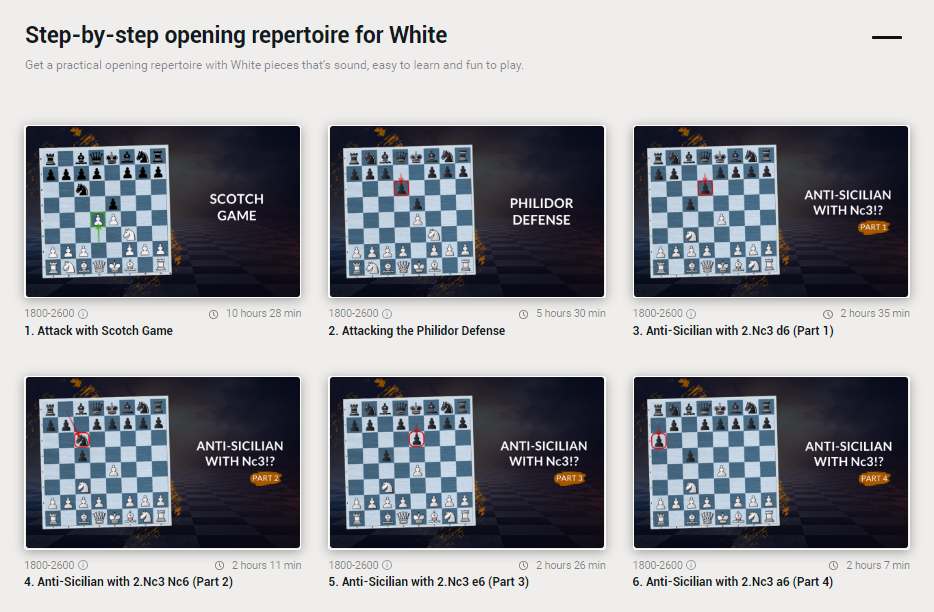 Live streams and webinars
ChessMood also runs live streams and webinars on various topics. 
The topic I most liked is Play against Grandmaster and ask a GM anything. ChessMood organizes this type of stream and webinar 6-8 times a month.
The only great thing you get is you can ask anything Grandmaster directly. 
Downloadable PGN
This is also a great feature. You can get access to all files which can be opened in chessbase. You can easily build your opening repertoire once you get initial data. 
This is the major difference between chess24 and ChessMood. 
Community Access
This feature is free for everyone but there is a separate forum where only pro members can participate. The ChessMood community is very active. Even GM Avetik also replies to some posts. 
Community is a great feature for players who wants to find a playing or practice partner. Also, it becomes very easy to get answers.
ChessMood vs Chess.com
This can be a great debate. Many factors are exclusive to chess.com. If we compare the membership pricing plan, you can notice that ChessMood membership is very expensive. 
Chess.com is no doubt the best website. They recently acquired Play Magnus group also. They have millions of users who are using chess.com 
This is why they can also offer various features at such a less price. 
ChessMood is more than just a saas platform. It's a community that cares about every subscriber. 
If you don't need someone who can guide you then go with chess.com. It is the best platform in the chess world and history.
If you need a personalized experience then choose ChessMood. 
How to watch ChessMood videos for Free?
ChessMood has there own youtube channel where you will find many high-quality videos. They are perfect for players between 1000-2000. 
If you want to watch their main content for free, you can just wait for their offer. Every year, they unlock all courses for 8-10 days (Mostly on World Chess Day or on ChessMood anniversary). You can take 100% benefits of this type of offer.
Also, you can use this link to get a 7-day free ChessMood trial. 
Conclusion
I would say you can try ChessMood membership for initial 1-2 months. Watch and consume all the content. Download all the files and then think to purchase them again after a few months. 
If you don't have enough time to practice chess then better to go for their essential plan. 
The Pro plan is suitable for those who are serious chess players who are looking to improve 100-200 points per year.