9 Best Books and Courses about Nimzo Indian Defense
Nimzo Indian Defense is among the most popular choices against 1.d4. This opening starts with 1.d4 Nf6 2.c4 e6 3.Nc3 Bb4. Black's main plan in this position is to exchange black squared bishop and then try to weaken white's pawn structure.
White also has many choices there. The most popular are Bd2, Qc2, Nf3, e3, etc. Whatever white plays, white will never get a lousy position in the opening. 
Nimzo Indian Defense is played on the top level. Almost every top grandmaster and world champion played Nimzo Indian in their life. 
In this article, we will see the 9 Best Books and Courses about Nimzo Indian Defense.
I will highly recommend you to purchase any one course and book at one time. Once you finish the book, go for another one.  
1- Nimzo-Indian: Move by Move by John Emms
John Emms is an English Grandmaster. In this book, he explained how to play Nimzo Indian Defense for beginners. This is also a favorite opening of John and he is playing for the last 30-plus years. 
Move by Move series is a very popular chess book series published by everyman chess. They have published more than 15 books under this series. 
However, some reviews say that few openings are not covered in this book. Although you cannot expect from author to cover every possible chess variation. 
2- The Nimzo-Indian Defence by GM Michael Roiz
Grandmaster Repertoire is the world's most popular chess opening book series published by Quality Chess.
Quality chess is famous for its quality and this book is also no exception. This book supplies an elite repertoire built upon positional principles, offering active piece play and a fight for the initiative.
The author is Grandmaster from Israel and contributed as an author in various chess books and courses. 
3- Play the Nimzo-Indian by Edward Dearing
In this book, Edward Dearing solves a problem by doing some concise work. He covered every detailed variation in this book. 
Although this book is published in 2006, you have to add and change a lot of variations by yourself. Still, if you are a beginner, I would say this book is perfect for you. Some features of this book.
Explains an opening favored by the world's elite

Written by a renowned openings expert

Covers all of White's main tries
Edward Dearing is a young International Master who made his debut for the Scottish national team at the 2004 Mallorca Olympiad. 
He has a degree in law from Cambridge University and is currently a practicing lawyer.
4- Crush the Nimzo-Indian Defense by FM Mikhail Belous
A detailed and latest course on Nimzo Indian Defense by Chessable. This course was created for players who are looking for a solid repertoire against Nimzo Indians.
You will get more than 350 trainable variations and 22+ hours of content.
Chessable is a high-quality chess course website that helps every chess player through high-quality courses. Even top Grandmasters are using their courses including Magnus Carlsen.
Belous is a U20 Ukrainian chess champion and a member of the bronze-winning team in the 2016 European Youth U18 Team Championship
Buy the course from ChessAble
5- Starting Out: The Nimzo-Indian
Starting out is a series by Everyman Chess publication. This series is created for players who don't know anything about particular variations. In this book, Grandmaster Chris Ward revisits the basic principles behind the Nimzo-Indian and its many variations.
The author also provided important notes and resources in the book to follow. 
6- Introduction to Nimzo Indian Defense by Hanging Pawn
This is a completely free high-quality video by the Hanging Pawn youtube channel. I would highly recommend watching this before purchasing any book or a video course. 
In this video, Stephan explained basic ideas of opening, plans, and strategies. According to Stephan, there are 2 reasons why people choose Nimzo Indian opening. First, it is very easy to learn, and second, it is flexible to learn. 
Watch the video from here
7- Win with Nimzo-Indian Defense by GM Miloje Ratkovic
This course is published by TheChessWorld and GM Miloje Ratkovic. This course consists of numerous variations and 10+ hours of watch time. This course can be your complete opening repertoire. 
According to GM Miloje, If you want to harass a 1.d4 player with sharp, technical play, understand the pawn structure concept a little better, and have LOADS of room to wiggle around, this is the opening for you.
Buy the course from Modern Chess
Use code nikhil45 to get flat 45% off on the Modern Chess Website
8- Saemisch Variation against Nimzo-Indian Defence by GM Abhijeet Gupta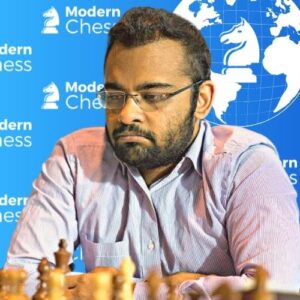 GM Abhijeet Gupta is a very strong chess player from India and also an active chess player. In this course, he suggested Saemisch Variation against Nimzo Indian Defense. This course is recommended for the white side. 
In this short course he suggested to play 1.d4 Nf6 2.c4 e6 3.Nc3 Bb4 4.a3.
If you don't want to spend to prepare against Nimzo Indian Defense then this course is for you. You will find all the information in less than 3 hours of course.
Buy the course from Modern Chess
Use code nikhil45 to get flat 45% off on the Modern Chess Website
9- A complete Nimzo Indian repertoire by GM Dariusz Swiercz
GM Dariusz Swiercz is a polish grandmaster who is currently staying in the USA. In his series of books, he explained Nimzo Indian Defense in Part 1.
Packed with plenty of new ideas, his methods consider the different ways White has at his disposal. His unique approach shows Black has nothing to fear, on the contrary!
Thinkers publication is a leading publisher in the chess world. They have published high-quality books in recent times. 
These are my recommendations which are helpful for every chess player. Remember some of the following key points before purchasing any book or course.
Never purchase more than 1 book or course. First, finish one book and then buy another one.

Youtube is a free academy where you will find amazing resources. Watch a few videos before purchasing any book or course.

Don't hesitate to invest in chess material if you are learning something.

Video courses are expensive but if you hire a coach of the same level then it would cost you 5-10x money.