5 Best Chess Courses For Beginners
Learning chess is quite difficult, especially for beginners. The main problem with this is that you don't know how to study, when, what to study, etc. There is a system that you have to follow to learn chess. For this, the best way is to hire a chess coach instead of buying chess courses. If you know how to play chess and struggling to cross the 1000 rating, these courses are for you. This will help you to improve and develop your strength quickly. This article will show some of the best chess courses for beginners.
Are chess courses worth it?
This is a totally valid question. Many people started creating courses and targeting through its ads. It is important to see which course you are purchasing. There are a lot of chess courses that are created only to make money. Some courses are good, but they are way too overpriced. It is important to understand your strengths and weaknesses and then purchase a course.
This is why I will recommend legit chess courses that you can blindly purchase and won't regret.
Here are a few tips for purchasing chess courses as a beginners
Usually, chess courses are expensive. Make a list of your exact needs, and then look for the courses.

First, find out free content on youtube. There are various chess channels that provide high value to their viewers.

If you still didn't find any chess videos on youtube, then you can go to the following websites and plan to purchase courses.
Best Chess Courses For Beginners
Many chess courses are targeted at beginners. Here I am going to suggest five courses and websites which will help you to achieve mastery.
1- Chess.com Courses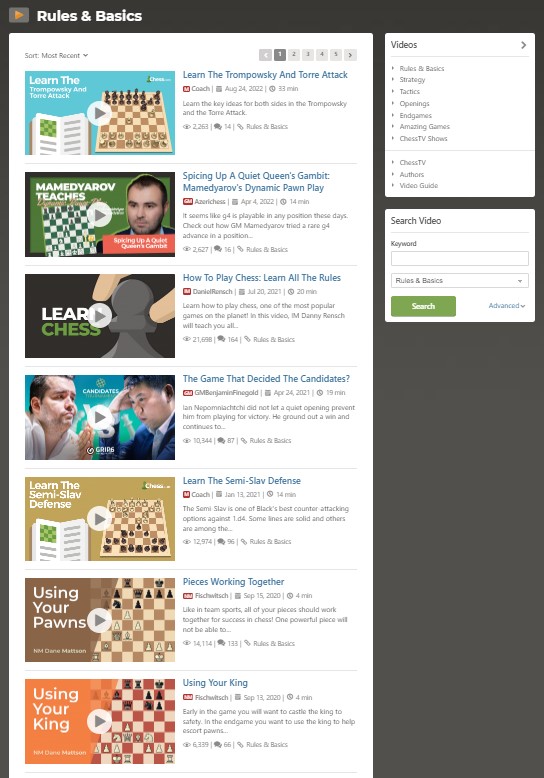 Chess.com is the number one chess website in the world. Recently they have crossed 100 Million users on their platform. Chess.com offers hundreds of lessons and video courses which are useful for beginners to master-level players. You only need to purchase their Diamond Membership which costs $120 per year. If you hire a personal chess coach, it will cost you anywhere between $15-40 for one hour.
Apart from courses and lessons, you will also get everything that you need to learn chess. Chess.com offers puzzles, puzzle rush, drills, videos, clubs, and also tournaments. This is by far the best and most affordable chess membership available in the market.
You can purchase Gold Membership and take almost all the benefits if you are an absolute beginner. If you are an advanced beginner or above, I recommend buying a Platinum or Diamond Membership.
We have already reviewed Chess.com Membership. You can read the full article by clicking here.
Also, you can claim 7 day free chess.com trial.
2- How To Play Chess: The Ultimate Beginner Guide by Gotham Chess
This is a free chess video made by IM Levy Rozman, aka Gotham Chess. Levy is a popular chess streamer and YouTuber with more than 2M subscribers. In this 32 min video, he explained how to play chess and also some chess strategies that are essential for beginners. He also explained various chess concepts and ideas. I highly recommend you to watch this course by Levy.
3- ChessMood Courses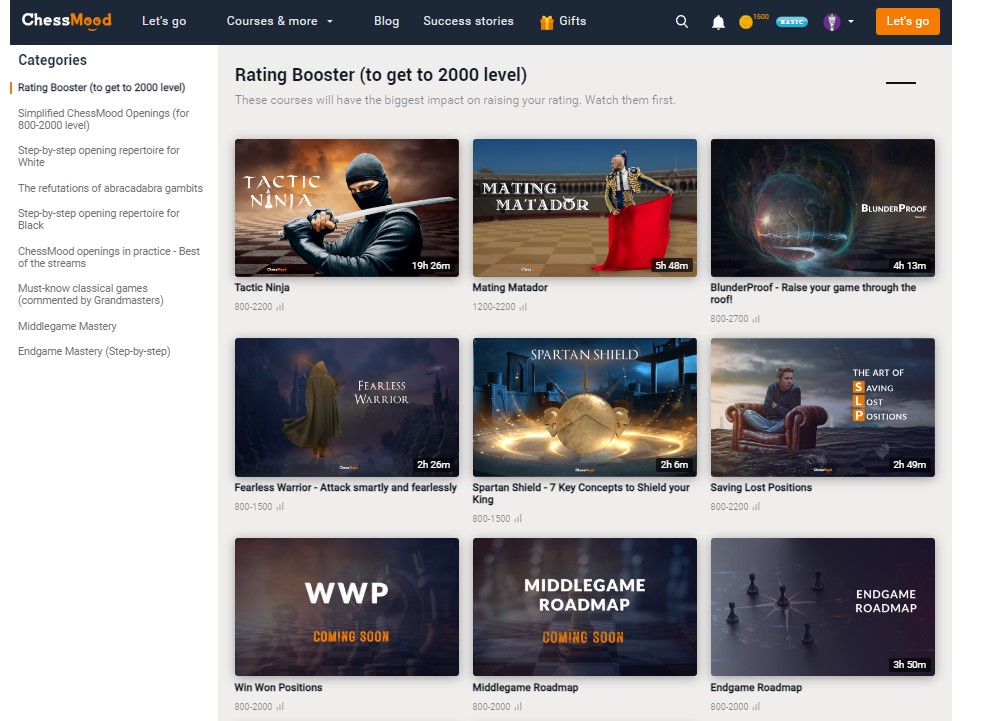 ChessMood is a platform created by Armenian Grandmasters. They have created amazing chess courses on various themes. They have courses for beginners to 2600 players.
To access chessmood courses, you have to purchase their membership which starts at $29 per month. You have to purchase their membership again and again to watch their courses. I would recommend purchasing one monthly membership plan and then watching all the courses in one go. If you want to become a serious chess player, go with a yearly membership. 
We have already written a full chessmood review which you can read by clicking here.
4- Endgame Crash Course with GM Krisztian Szabo
Learning endgames is also a basic skill for chess players. Beginner chess players usually don't focus on the endgame. They start preparing middlegames and openings. Understanding basic chess endgames is a must for every chess player. In this chess course created by GM Krisztian Szabo, you will get complete knowledge of the endgame.
You will get the entire course PGN file which you use further. Here are some of the key things which you will learn from this course.
Endgame fortresses explored

Zugzwang in play

Pawn capturing miss
You can purchase this course at a flat 45% off by using code Nikhil45 at checkout. You can also use this coupon code for all sitewide purchases.
Visit the course page from here
5- Learn to play chess with a World Champion by GM Vishy Anand
Who will not like to learn from a world chess champion? This course is recorded by five times world chess champion Vishy Anand, also known as Madras Tiger. In this course, Vishy explained how to play chess. This course is perfect for beginner chess players who don't know anything about chess.
To access this course, you need to purchase a chess24 Premium Membership.
Best Chess Youtube Channels for Beginners to become Masters at chess
Youtube is a free university where you can learn thousands of skills. Day by day, more and more chess content creators are creating videos. Following are some recommended content created from which you can learn many new things.
Gotham Chess
Gotham Chess, aka Levy Rozman, is an International Master with 2.4M+ Youtube subscribers. He is known for his comic style of teaching. Currently, Gotham chess is the number one youtube chess channel on youtube. You can watch all his videos, especially on opening and endgames.
Agadmator Chess Channel
Agadmator chess channel is a channel where you will find thousands of game analysis videos and classics. Agadmator is from Croatia and working on youtube from a small town.
Agadmator becomes the first youtube creator to cross 1M subscribers. You can watch his classic playlist on youtube and learn a lot of new things.
Chess Talk
Chess Talk is an Indian chess channel who become very popular. I recommend this channel for absolute beginners to learn chess from scratch. He usually creates videos on tricks and traps. By watching his videos, you will improve in online chess.
These are three channels that you can follow and watch their videos regularly. Apart from this, there are two channels worth mentioning, i.e., Chess24 and Chess.com. On this channel, you will see lives commentary by top chess grandmasters. Also, there are a lot of other creators whom you can follow and learn many new things.
FAQs
What is the best way for a beginner to learn chess?
The best way to learn chess for beginners is to learn basic chess openings and endgames. Once you learn this, start solving tactics from books. Playing will not improve your strength as a beginner. Regular practice is the only way to improve as quickly as possible.
Another way is to hire a chess coach and follow their instructions. You can take 1-2 classes per week to get better and quick results. Hiring a chess coach can be expensive, and finding a perfect one is also difficult. You can read the following article to understand better about hiring a chess coach.
What should beginner chess players learn?
There is so much to learn for beginners. The most important part for beginners is to open a chess board and chess book daily and study something. Consistency is the key to chess. Here are some of the things beginner chess players should learn first
Chess annotation and how to read chess books

Chess Fundamentals

Basic chess opening principles

Checkmate Patterns

Basic Endgame positions.
What age is too late to start playing chess?
There is no age bar to play chess. If you want to become a professional chess player, you should start chess atleast at 8. Many adult improvers learned chess at 25-30 and became international masters or even more.
If you are taking chess as a hobby, you can start at any time. Chess is a very addictive game. Once you start playing on lichess, you will understand how addictive it is.
How do I start a career in chess?
There is various career path in chess that you can follow. Playing and earning money from playing is one of the least career paths you should choose. You can become a chess coach and make a lot of money. Read this article on how much chess coaches make to get a better idea.
You can also start your own blog like this. There is much more opportunity as a content creator, chess photographer, chess organizer, etc.
The chess industry is seeing massive growth in the last three years, and it will continue for the next 10-15 years. If you want to start a chess career, make sure to reach atleast 1800 FIDE rating to get better prospects.