Best Chess Sets under $100 
Chess is a great game that can provide hours of entertainment, but finding the right set can be challenging. You're in luck if you're on a budget and looking for a high-quality chess set. We've gathered the top options available that won't break the bank. These sets are perfect for beginners or those who want a reliable and affordable location for their games. From traditional wooden sets to modern designs, there's something for everyone. So, if you're ready to find the best chess sets under $100 that will be okay with your wallet, check out our list of the best chess sets under $100.
9 Best Chess Sets Under $100
Best Chess Set Ever Triple Weighted Tournament Style Chess Set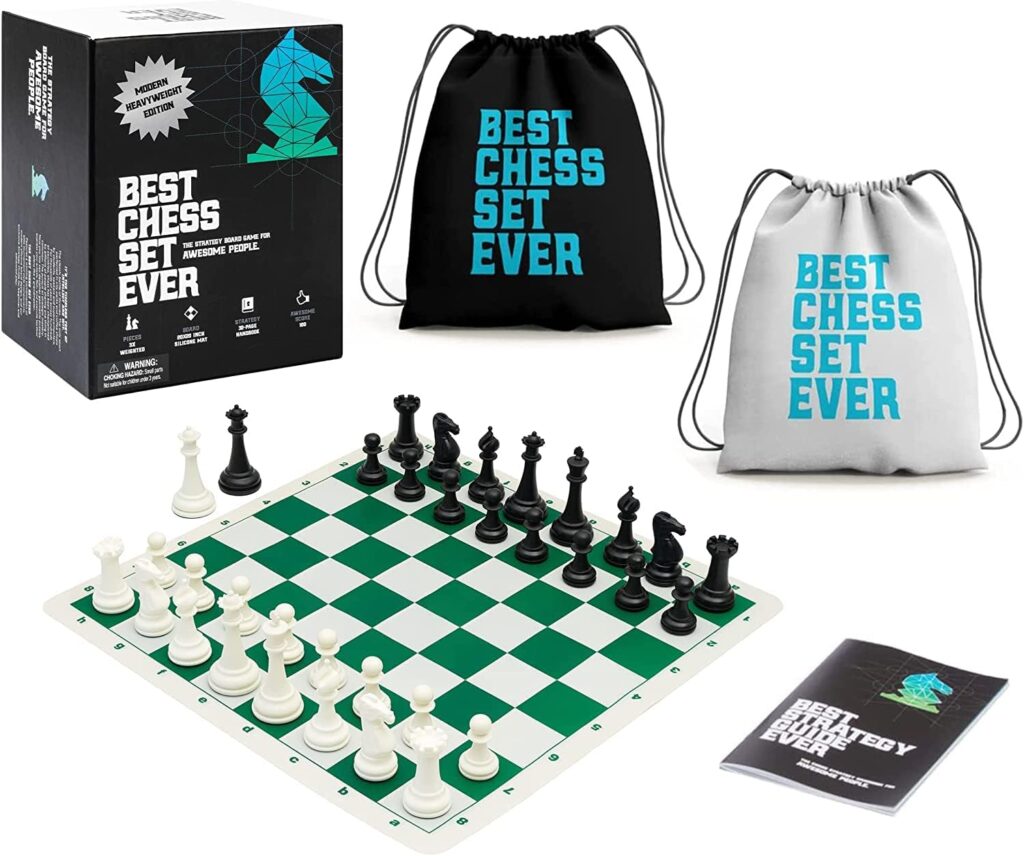 This tournament-style chess set is a must-have for chess enthusiasts of all levels. The set features triple-weighted, felted Staunton pieces with a 3.75″ king height, ensuring stability during gameplay. The 20″ x 20″ double-sided silicone board is spill-proof, stain-resistant, and easy to clean, making it ideal for on-the-go play. The Best Ever chess set has a bonus of four queens and a 32-page complete chess strategy guide to help beginners and advanced players. The modern game box is sleek and portable, making it easy to transport and store. With its durable design, this set will last a lifetime and is a favorite of seasoned players.
Slotted-Style Vinyl Demo Chess Set with Deluxe Carrying Bag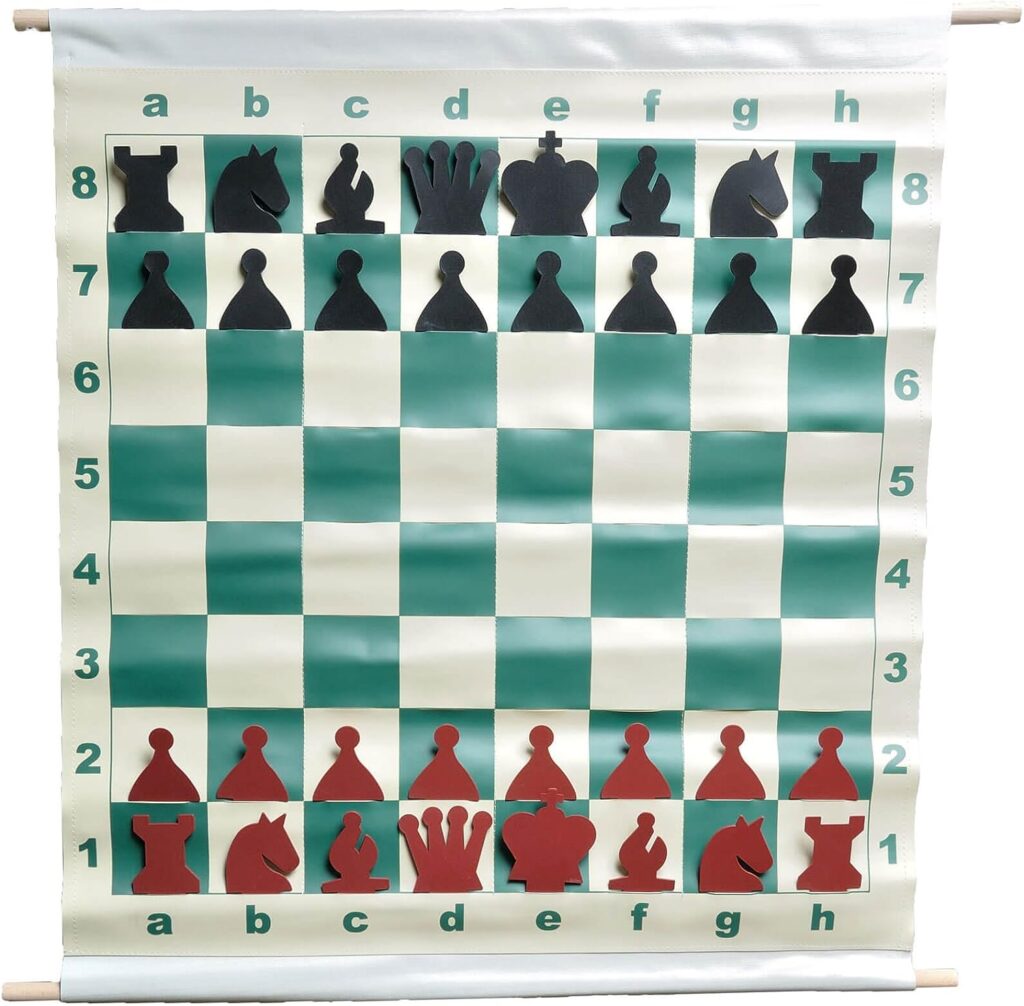 The Slotted Style Chess Demonstration Set is an excellent option for those searching for an affordable and functional chess set under $100. The set comes with large black and red chess pieces that are easy to see from a distance, making it perfect for teaching and group analyzing games.
The 28″ vinyl board is slotted to hold the pieces in place and is supported by two wooden dowels and a strong cord for easy hanging. The set also includes a durable nylon storage bag with a zipper closure and adjustable handle for convenient transportation. Made from high-quality materials, this set is built to last for years.
Roman Chess Set – Vinyl Chess Board Black / White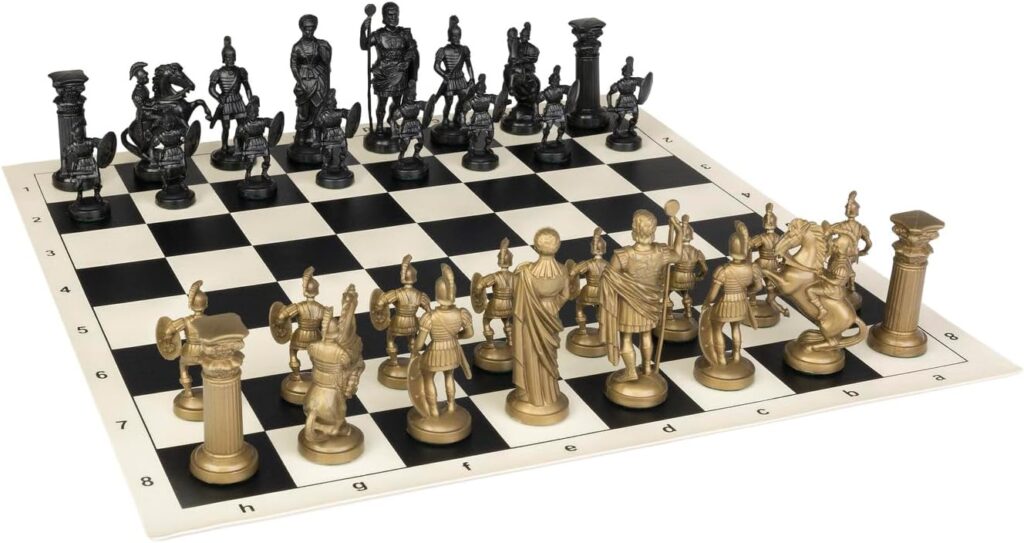 The Roman Chess Set with Vinyl Chess Board is affordable for those looking for the best chess sets under $100. The plastic chess pieces are durable and depict a Roman Legion design in black and white colors. The set includes felted chessmen with a king height of 3 3/4 inches and a weight of 1.0 oz. The vinyl roll-up chess board has 2-inch squares, printed brown squares, and alpha-numeric notation. It is perfect for chess clubs, schools, and tournaments as it is durable, washable, and easy to clean. This standard-size chess set with a Roman style is an excellent choice for beginners and chess enthusiasts.
US Chess Quiver Chess Set Combo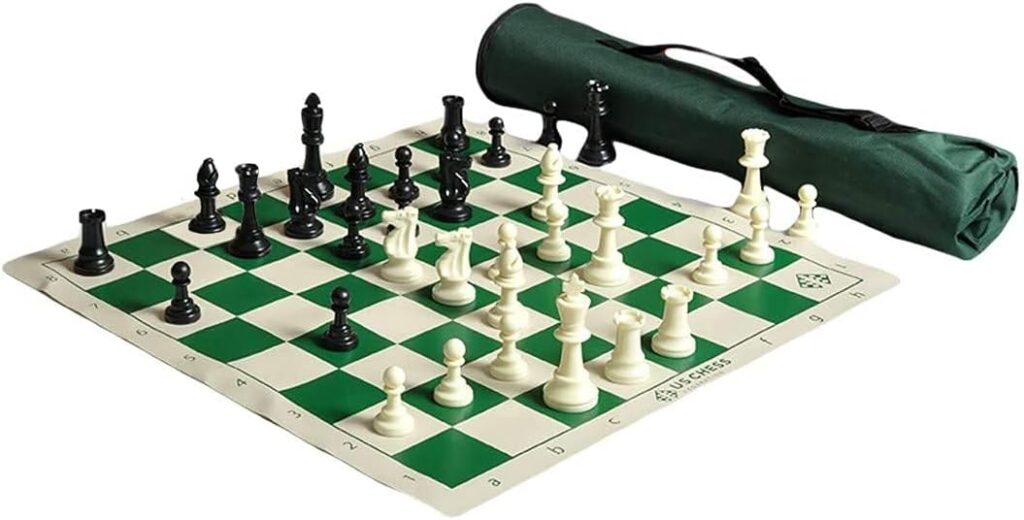 The US Chess Quiver Chess Set Combo is an affordable and convenient option for those seeking the best chess sets under $100. This combo includes a Quiver Chess Bag, Single Weighted Regulation Plastic Chess Pieces, and a Premium Vinyl Tournament Chess Board. The Quiver Chess Bag is designed to hold your chess pieces and board, with an adjustable shoulder strap for easy transportation. The chess pieces are made of plastic and feature a traditional Staunton pattern, while the vinyl board measures 20″ x 20″ and features rank and file labels on all four sides. This chess set is Ideal for chess clubs and schools that want a tournament combination at a low price.
AMEROUS -Wooden Chess Set with Metal Chess Pieces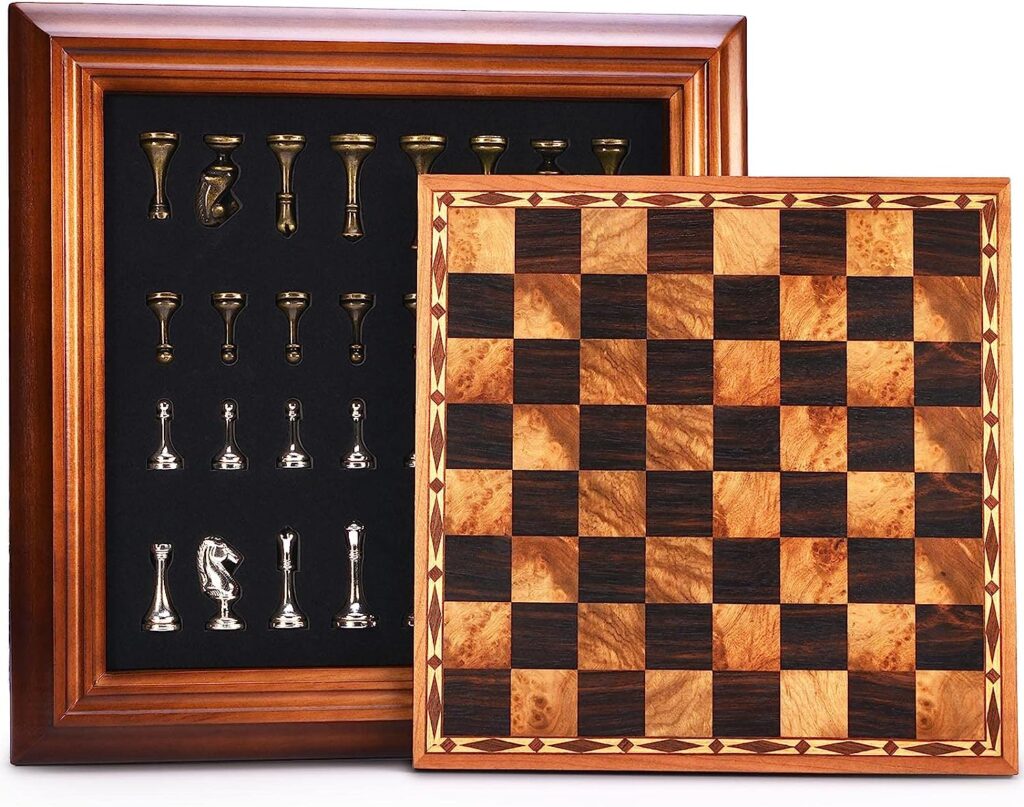 If you're a chess enthusiast on a budget, AMEROUS has the perfect chess set. Our professional-grade chess set comes with a 14″ x 14″ solid wood chess board and 2.5″ metal chess pieces that have been upgraded for added durability and stability. The pieces also feature a felt bottom to reduce noise and protect the board. The chessboard has convenient storage slots for each piece, and its elegant design makes it an excellent decoration for your living room or study. Suitable for indoor and outdoor use, this set is perfect for players of all levels, and it's one of the best chess sets under $100. Stimulate your mind and challenge your friends with this classic board game.
A&A -Walnut Wooden Chess Sets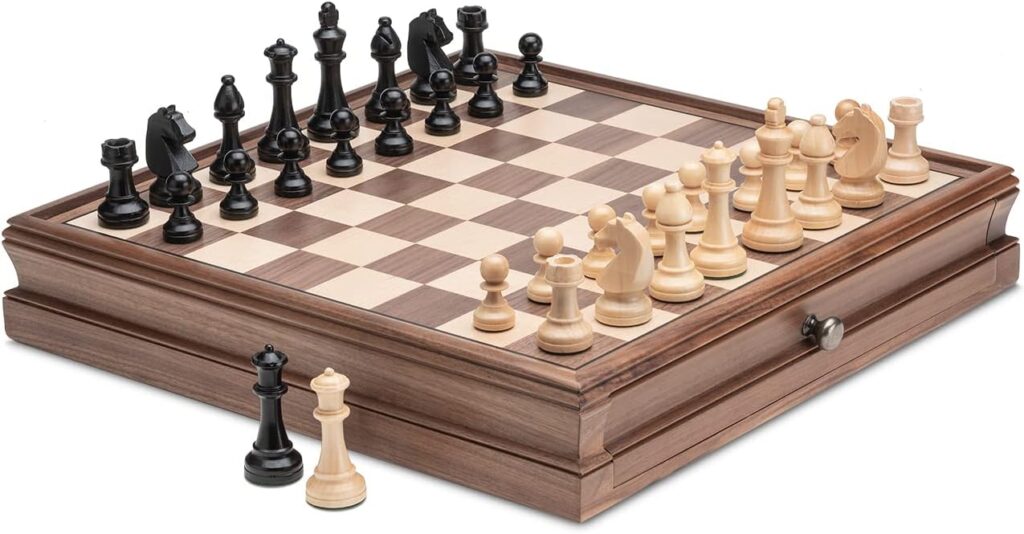 The Walnut Wood Chess Set is a stunning addition to any chess enthusiast's collection. Crafted from natural walnut wood and inlaid with maple, the chess board measures 15 x 15 inches with a square size of 1.25 x 1.25 inches. The Staunton chess pieces are made of Birch wood and triple-weighted for added stability. The king stands tall at 3 inches with a base diameter of 1.15 inches, while the queen is 2.75 inches high. The soft pad underneath the chess pieces keeps the board safe and helps to prevent them from slipping. The set also features a drawer design for easy storage and a dust-free display.
FOLDING WOODEN MAGNETIC Travel Chess Set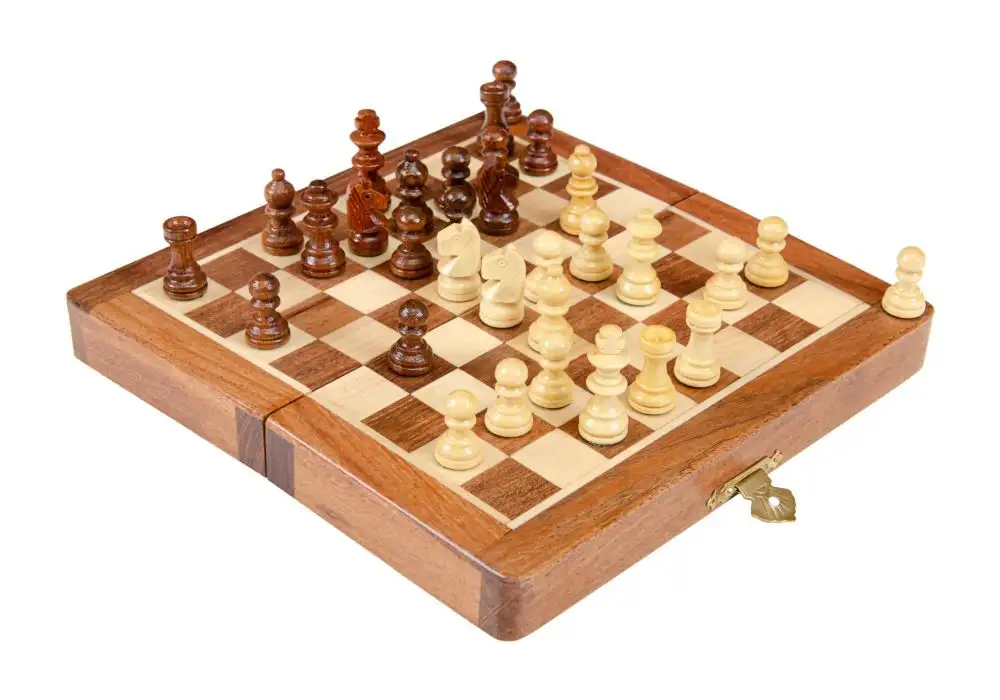 This Folding Magnetic Travel Chess Set is an excellent choice for chess enthusiasts who want a high-quality set at an affordable price. It is handcrafted from Sheesham and Maple, which gives it an elegant and sturdy look. The magnetic board ensures that the chess pieces stay in place while playing. Its compact and lightweight design makes it ideal for traveling. Additionally, the foam inserts ensure the safety of the chess pieces during transit. With a king height of 1.25 inches and a square size of 0.75 inches, this best chess set under $100 is perfect for beginners and experienced players alike.
PEG WOODEN Travel Chess Set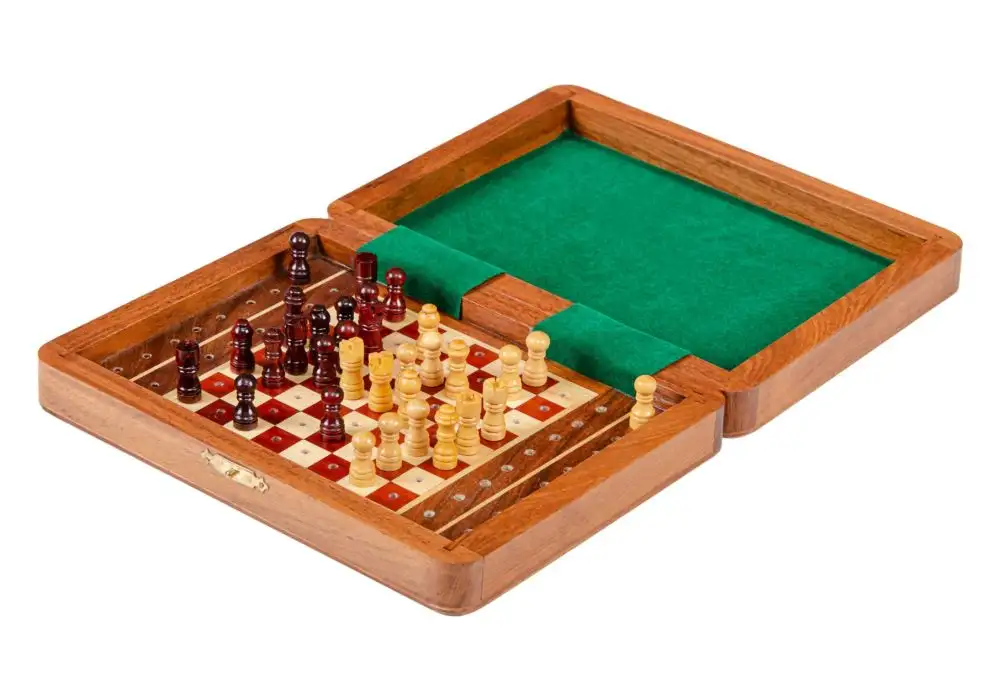 Crafted from high-quality Padauk and Maple wood, this Travel Chess Set from The House of Staunton is perfect for chess enthusiasts who love to play on the go. The chess set is compact, measuring 8.0″ x 6.0″, making it easy to carry around. The set features a hinged lid that can be closed to keep the chess pieces secure during transportation. It's a beautifully handcrafted chess set that is functional and makes for a great display piece.
Chessmate – Ultima Deluxe Pocket Chess Set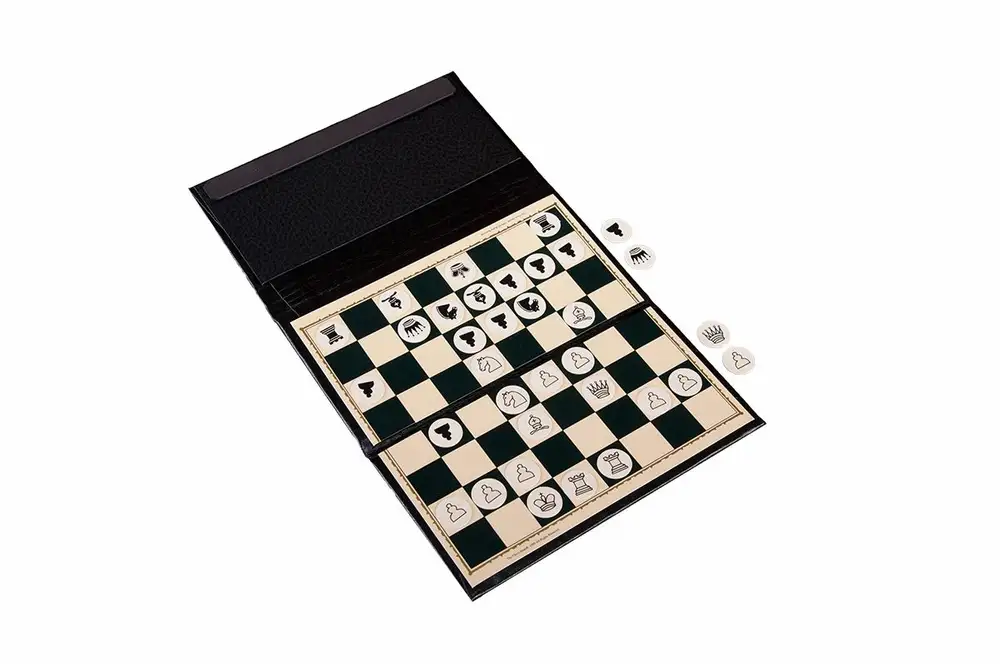 Take the game with you wherever you go with the Chessmate Ultima Deluxe Pocket Chess Set. This travel chess set includes small chip pieces that attach to the magnetic buttons on the 6″ folding board. The parts glide effortlessly around the board during play but hold well once assembled. The board has a clear, protective coating to keep the chessboard image intact for years. The set includes 32 pieces plus four extra pieces per side for promotion. Assembly is required to attach the chip pieces to the magnets, but all necessary components are included in the purchase.
Conclusion
Finding a good quality chess set can be overwhelming, but our list of the top 10 best chess sets under $100 makes it easier for you. These sets are not only affordable but also offer great value for money. Whether you're a beginner or an experienced player, these best chess sets under $100 provide a comfortable and enjoyable experience. So, don't stress over your budget; pick one of these sets to enjoy playing chess with friends and family.
Donate Us
Thank You for reading our blogs. We are an ad-free platform and want to serve you the highest quality blog posts all the time. We appreciate your support through donations.