"Checkmate: A Journey to the Top with India's National Chess Champion, GM Karthik Venkataraman"
In this interview, we have a guest, GM Karthik Venkataraman. Karthik won National Championship 2022 and is currently rated 2515.
In this interview series, we connect with strong chess players and academy owners to get more insights from their minds.
Let's start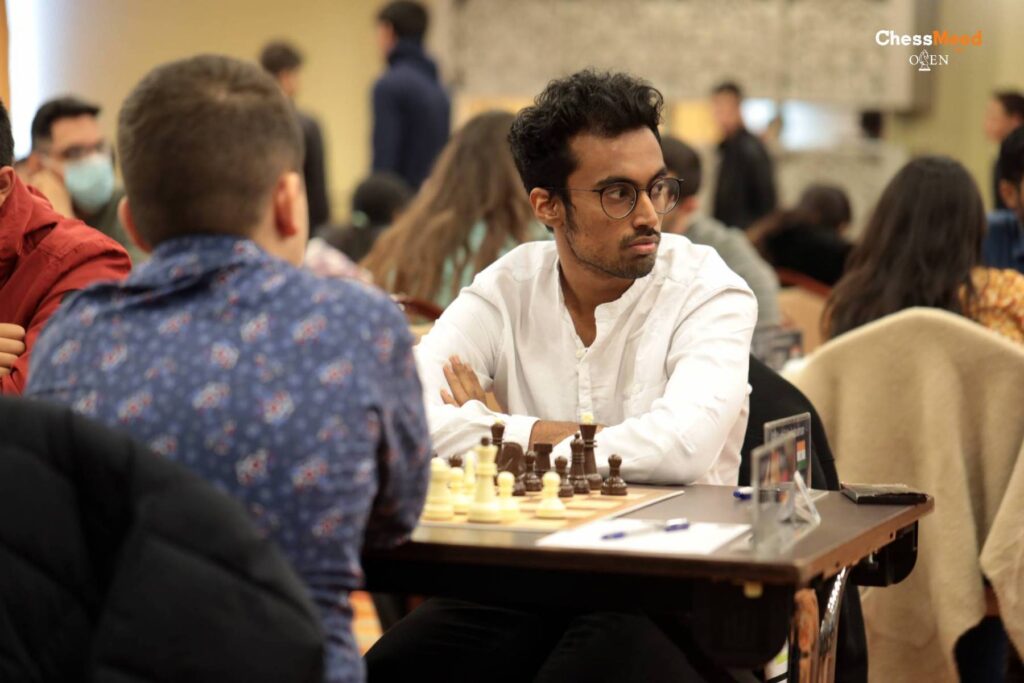 Tell us about yourself.
I am Karthik Venkataraman, 23 years old, from Tirupati, Andhra Pradesh. I am currently studying MBA at SRM university Chennai.
How did you start playing chess? Could you tell us about your journey?
My mother gifted me a chess board for my 7th Birthday, and I started playing at home. Eventually, I joined a Chess academy, and it went from there.
What Attracted You To The Game Of Chess?
Honestly, I don't know what attracted me to the chessboard. Things happened, and I went with the flow.
Who was your first chess idol, and why?
For almost every Indian chess player, His or Her Idol is Viswanathan Anand. The reasons are Self Explanatory.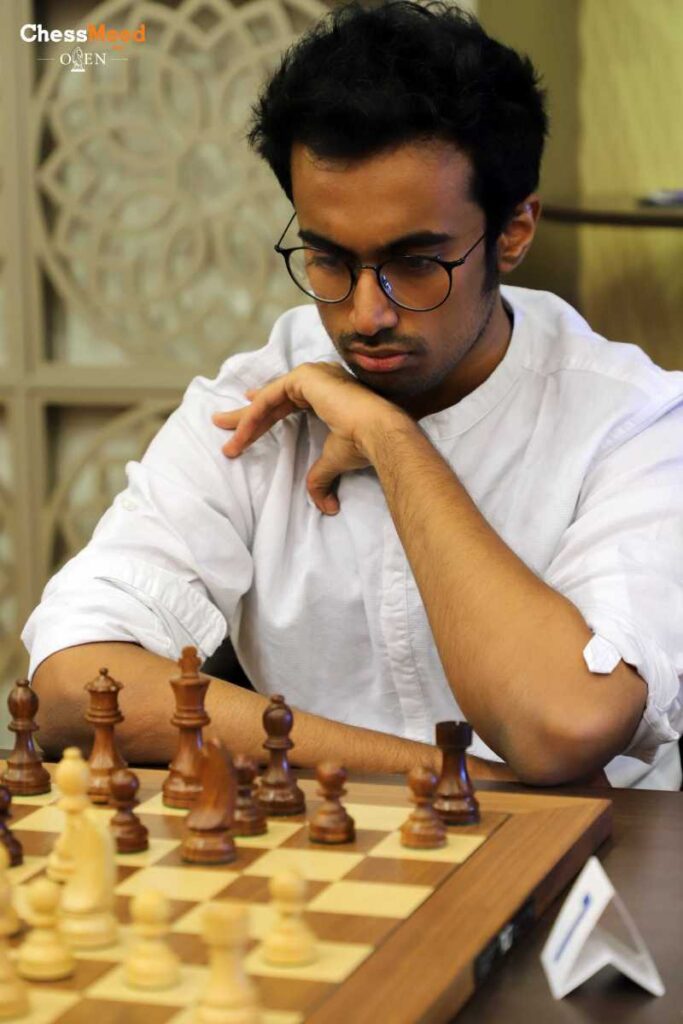 What is your favorite chess book, and why?
It's hard to choose one. I am not a book-reading kind of guy. I much prefer Watching Videos. The book that comes to my mind currently, which I enjoyed reading and finished in a few days, was Anand files.
Looking ahead, what are your goals for your chess career?
I want to increase my rating Step by step to 2600 and then to 2700, and then to 2800.
How do you mentally prepare yourself before a big tournament?
Usually, before any tournament Imagine myself Winning the tournament, but it is not always good, I feel.
We perform best when we don't have any expectations or when we are not too focused on the results. Moving forward, I would try not to focus on the results and try to enjoy the process.
What is your usual schedule while playing chess tournaments?
My schedule varies from tournament to tournament and is based on the round timings and the number of rounds per day.
If there are single rounds, then I wake up, eat Breakfast and Prepare against my opponent until I am satisfied with my preparation. If there are Double rounds, It will be just random.
What are your hobbies apart from chess?
I watch Movies and Youtube, and sometimes read books.
You recently won National Championship 2022. Can you tell us a bit about that?
I wanted to win Nationals this year long before it was confirmed. But before the tournament, I could not work on my chess due to Exams. So the expectation was rather humble. In the first half, I did not play well.
Therefore I just focused on winning the next few games. Overall game Wise, I don't think I played well and even got lucky at times. But I will take the win.
(ChessBase India took an interview after Karthik's victory. You can watch the entire video here)
Also, you secured a place in the next world cup for the first time. How important is this for you?
Qualifying for the World Cup was very important. It gives me the exposure and medium to reach higher levels.
Apart from chess practice, what other things do chess players need to focus on for improvement?
I think Apart from Chess, The right attitude is important. Confidence, Mental Toughness, and so on are some of the skills which need to be developed. Some people claim Physical fitness is also important for Long games, But it is a bit overrated. It does play a role but not as much as it is portrayed.
In a lockdown, you also coached a few students. What was your experience on that, and can a player manage both chess coaching while trying to improve their own rating?
I just coached One Student, more or less. That too, stopped after a point. But I think if you spend time on your own game, it should be manageable. I know some of my friends do coaching for extra Money and they play really well as well. So I don't think it should be a problem.
How is technology helping in chess?
Basically, all the chess work we do is on a Laptop. From creating Opening files to Studying games and Preparing for an Opponent, we need technology. Apart from this, Cloud Engines are really useful in producing good Opening Novelties and so on. It is really beneficial.
What is your advice to parents who want to make their child a pro-level chess player?
From a tournament perspective, I think Parents should let their children play in Strong tournaments where most players are Stronger than their children. In that way, Their children could learn a lot. Finding the right coach is also important.
There are so many coaches, and it is very hard to say who will be the right coach for their children. Irrespective of it, They should try to find a good coach. And it is important that their Children should work on chess on a regular basis If they can. Preferably every day. Consistency is important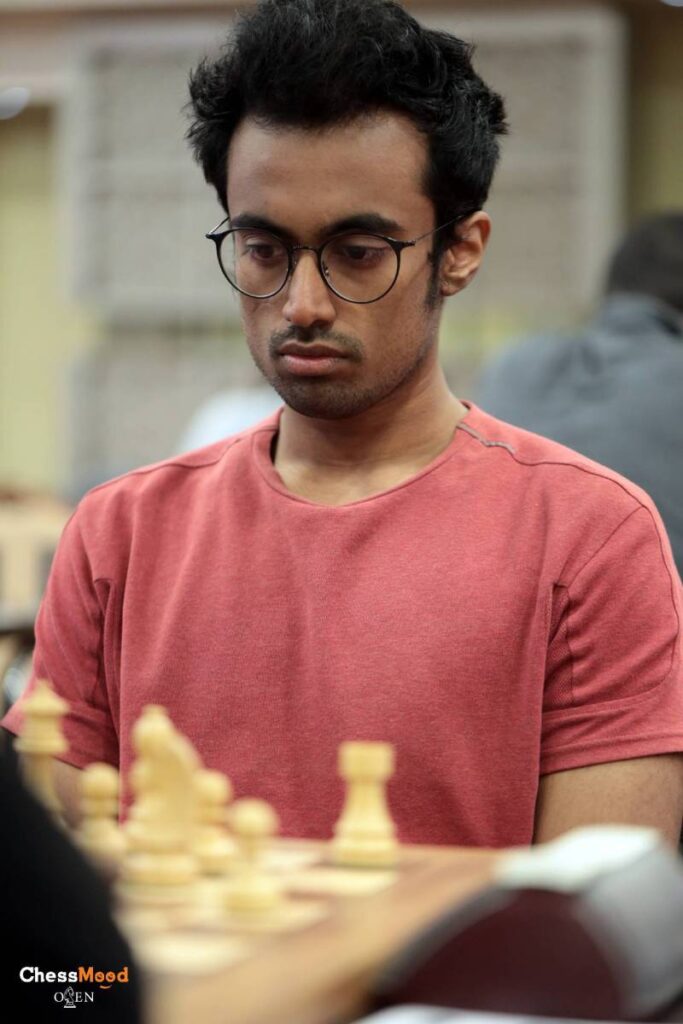 Rapid fire questions
Favorite chess player – Petrosian
My favorite chess movie – Pawn Sacrifice
Favorite chess opening – Sicilian Najdorf
Favorite movie – Sicilian Najdorf
Favorite Youtuber – Mr. Beast
Favorite chess game – Karpov – Kasparov with the Octopus knight on d3
Favorite non-chess book(s) – Relentless
Favorite City – Madrid
Favorite Dish – Chicken Biriyani
Contact Details
If you want to connect with Karthik, here is his email address – greatkarthik23@gmail.com
We hope that you will find this interview useful. Also, a special thanks to Karthik for taking the time and sending all the answers to us.
If you are a chess player or running your chess academy and want to publish your interview with us, please send us a mail at contact@chessarticles64gmail.com
Read More:-
Donate Us
Thank You for reading our blogs. We are an ad-free platform and want to serve you the highest quality blog posts all the time. We appreciate your support through donations.