Book Review: Jewels of Chess by Aniruddha Deshpande
Jewels of Chess is a book originally written by Pandit Trivengadacharya Shastri in the Sanskrit Language, and later, FM Aniruddha Deshpande translated this book into English.
In this article, you will get a review of this uniquely written book from the 18th century.
History of this book
In 1800 CE, Pandit Trivengadacharya Shastri compiled a book called "Vilasmanimanjiri" at the request of Bajirao Peshwa II, the final Peshwa of the Maratha Empire.
Imagine writing a chess book 200 years ago in India.
Even there were very few players playing chess in Europe, and Indian chess was completely off at that time.
Times of India, the Biggest English newspaper in India, published an article about it on 28th July 1937, mentioning they found 2 manuscripts. 1st discovered in 1928, and the second was discovered in 1936.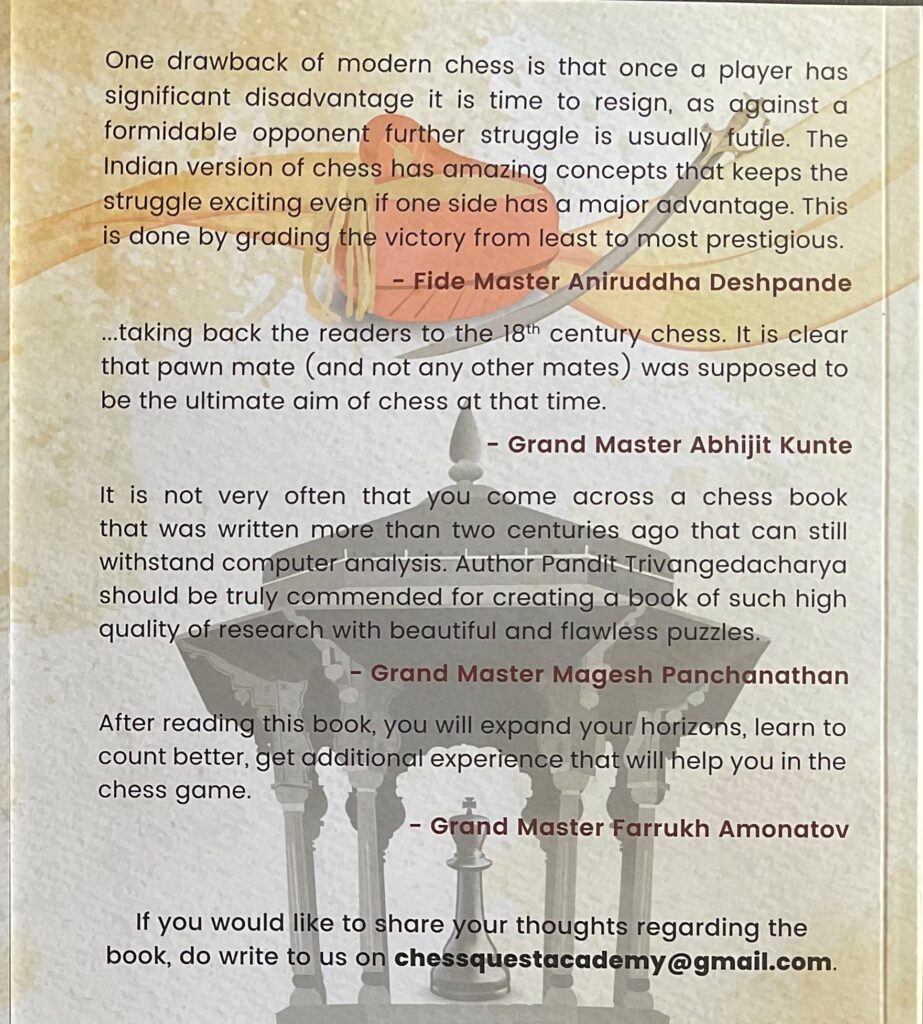 Objectives of this Book
As this book was published in the 18th century, the objectives of publishing this book were totally different. The main objective was to create awareness about chess and teach people how to play chess.
It looks like the following were the main objectives of publishing this book in the 18th century.
To promote the game of chess: Chess has been a popular game in India for centuries, and this book could have been published to encourage more people to take up the game.
To teach chess strategy and tactics: The book could have been written to provide an in-depth analysis of the game, covering topics such as openings, middlegame plans, and endgame techniques.
To document the history of chess: The book might have included information on the origins of chess and its development over time, providing readers with a deeper appreciation of the game's rich history.
To showcase the achievements of Indian chess players: India has a long tradition of producing talented chess players, and the book could have highlighted the achievements of these players, both past and present.
A glimpse of this book
This book consists of puzzles starting from move 1 to 82. Some puzzles are extremely hard for even grandmasters!
There are 25 chapters in this book. Following are some of the key chapters
History
Facts and Thoughts
Beautiful Pawn Mates
Epic Pawn Mates
Checkmates
Endgames
100 square chess board game and puzzles
From where can you purchase this book?
This book is available on Amazon India and shipped to all Indian cities.
The price of this book is 350 INR.
Final Thoughts
I got this book from Aniruddha Deshpande. After reading this book, here are a few thoughts and insights which will help you.
The book was written in Sanskrit, and Editor translated it well into English.
You will find various unheard chess concepts which will blow your mind
As this is an old book, we cannot relate to many chess concepts.
Puzzles are unique, and everyone should at least try it
I was aware of the 10*10 chess board game, which was played earlier in India. But I got a complete idea from the book.
This book is totally different from today's perspective. Engine evolution is not the best suitable matrix for the book.
Also, I found an interesting fact written by GM Abhijeet Kunte about pawn mates.
It's clear that pawn mate (Checkmate with the pawn) was supposed to be the ultimate aim of chess at that time. In old Indian style chess delivering a pawn mate was considered to be the most prestigious way of winning the game!

GM Abhijeet Kunte
About Author
FM Aniruddha Deshpande is a professional chess coach and chess player. He is an IM elect player and has also won various chess tournaments.
A few years ago, he started his academy named Chess Quest Academy. They have various centers in Pune city. Academy offers both offline and online coaching for individuals as well as groups.