Is a Chess Coach Worth It?
Hiring a chess coach can become expensive sometimes. Also, many beginner chess players don't think that a chess coach will add that much value in terms of improvement. Some think that they can study and improve their skills by watching videos or playing online.
Many players ask me that is a chess coach worth it. I always say a big yes! Chess coaches are valued for money, especially if you want to grow faster.
Is a chess coach worth it?
A chess coach is definitely worth it, especially if you are a beginner chess player. As a beginner, finding a clear path according to our style becomes very hard. It also becomes very difficult to choose openings, practice endgames, solve positions, etc. A chess coach is the perfect person to help you with all of that.
If you play chess as a hobby, I would say you can skip hiring a chess coach. You can use chess books and chess materials for reference. If you are a serious chess player and you have certain goals, you should go for a chess coach.
Following are the major reasons to hire a chess coach
A chess coach can help you according to your style.

You will save a lot of time understanding different chess concepts.

By following his instructions, you can become a master-level chess player in a few years.
There are two major expenses in a chess player's life. One is the chess coach cost and tournament cost. We don't have equipment costs in chess, unlike tennis or cricket. You just need to buy a chessboard set and chess clock, and you are good to go.
The other major thing chess coach do is build a personalized training plan which you can't find in online chess courses.
How many sessions should you take from a chess coach?
This is a question many players ask. To simplify this, read the following points to get a better idea. (1 session = 1 hour)
For players below 1600, 2-3 sessions in a week would be perfect.

For above 1600 players, 1-2 sessions in a week.

If you have any tournaments planned within the next 20-30 days, you can increase the number of sessions and vice versa.

Each session of 1.5-2 hours for offline classes would be great as it will help you increase your sitting capacity and concentration level.
Can you become a good chess player without a chess coach?
Yes! You can become a good chess player with or without a chess coach. The only drawback is motivation; you need to spend more time figuring out different things in your chess journey. Many chess players can't afford chess coaches, or they don't find chess coaches that worthy.
To improve without a chess coach, you can implement the following techniques.
Create a group of good chess friends with whom you can do chess practice regularly

Play a lot of rating tournaments and analyze your mistakes from every game

Have a mentor who can solve your doubts, or atleast don't become shy to ask questions to higher-rated chess players.

Be curious every time about chess.
I would highly recommend a book called How to Study Chess on Your Own by Davorin Kuljesevic, published by New in Chess. Amazing book! Almost all your doubts will get clear if you read that book.
Even I didn't have a chess coach from 2016 to 2022. In that six years, I completed college and increased my rating from 1919 to 2300+. You can see the following graph. Solving a lot of tactics and studying basic endgames helped me a lot in that five years.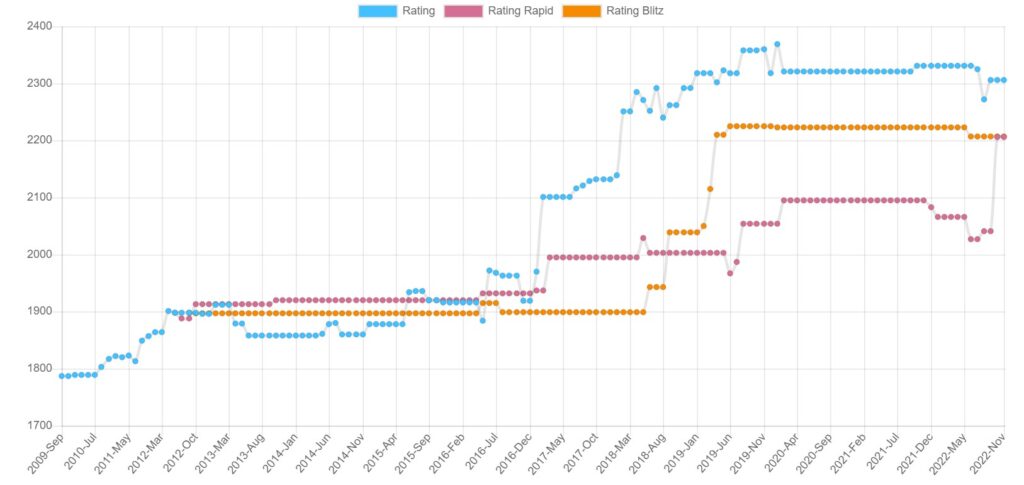 How to find the best chess coaches?
There are many ways to find a chess coach. Many players don't find a good chess coach. A few factors must be considered such as their rating, experience, etc. before hiring any coach to avoid scams.
Hire a chess coach who can speak your language. It becomes very easy to understand what exactly the chess coach is saying. Also, it becomes very easy and convenient for chess coaches.

Many fake chess coaches claim that they have a title. Even some chess academies also do the same. Check your coach profile on the world chess federation website. If he or she claims themselves as a tilted player, search on google and cross-check with a chess player.

Don't give any guarantee or don't pay for many chess sessions. First, take 2-3 sessions. If you like it, then only pay for 10-20 classes.
There are mainly two chess websites where you can find a chess coach. This is a modern way to find a chess coach. You can visit the lichess coach page or the chess.com coach page to find good chess coaches.
Another way is to visit a local chess academy and ask them about a chess coach. They can provide you with an offline chess coach.
How much does chess coaching cost?
Chess coaching prices are not fixed. It changes according to title, rating, experience, and country. Usually, in the USA, chess coaches charge anywhere between $30-75. International Masters and Grandmasters charge way more. Also, if you want offline chess classes, add 30-50% amount to mentioned charges.
Weekend batches in a good chess academy can cost you $100-200 per month for 4-8 classes. Group class is a great way for players younger than 12 years.
Alternatives to chess coaches
If you still don't want to hire a chess coach, you can use the following resources.
Donate Us
Thank You for reading our blogs. We are an ad-free platform and want to serve you the highest quality blog posts all the time. We appreciate your support through donations.