10 Facts about Praggnanandhaa Rameshbabu
Praggnanandhaa, a golden boy of India, is set to become a World Chess Champion in the upcoming years. Because of his performance in World Cup 2023, he needs no formal Introduction.
In this article, we will see 10 facts about Praggnanandhaa Rameshbabu.
Facts about Praggnanandhaa Rameshbabu
| | |
| --- | --- |
| Full name | Rameshbabu Praggnanandhaa |
| Birth Date | 10th August 2005 |
| Father Name | Rameshbabu |
| Mother Name | Nagalakshmi |
| Coach Name | RB Ramesh |
| Age when become IM | 10 years, 10 months |
| Birth City | Chennai, Tamilnadu |
| How to pronounce | Prag – Na – Nan – Dhaa |
| Height | – |
| Income | $129,000 in 2022 |
| Salary | – |
| Wife | |
Youngest International Master
Praggnanandhaa became the youngest International Chess Master at the age of 10 years, 10 months, and 19 days. He became very popular after his achievement.
Getting the International Master title at the age of 10 was one of the highest chess achievements ever, and hence, he got various sponsorship deals after that.
Net Worth
We were not able to calculate the exact net worth of Praggnanandhaa, but we did some research and found some amazing facts about his income.
In 2022, he earned $129,000 (Source –

chess.com article

)

In World Chess Cup 2023, he made $80k as a prize and also approximately $36k (30 Lakh INR) by the Tamilnadu government. It made a total of $110k.
Grandmaster at age 13
Praggnanandhaa defeated GM Moroni to achieve his GM title in 2018 at the age of 12 years, 10 months, and 13 days. Pragg became the second youngest Grandmaster in the history of chess at that time. Later, that record was defeated by GM Abhimanyu Mishra, who became the youngest Grandmaster.
Meeting with PM Narendra Modi
Pragg got a chance to meet India's honorable PM, Mr. Narendra Modi. Modi met him because of his achievements in the World Cup 2023.
Following are some images.
Praggnanandhaa's White Mark on the head (Vibhuti Mark)
Vibhuti Mark is sacred ash made of burnt dried wood, burnt cow dung, and/or cremated bodies used in Agamic rituals.
Read more about Vibhuti Mark on the Wikipedia Page.
Following is the video where the interviewer asked him what mark was on his forehead.
Pragg sponsorship to Vaz Ethan
In 2022, Pragg became runner-up in the FTX Miami Cup; after that, Pragg decided to donate the amount to a promising young man from India.
After that, Chessbase India and Pragganandha decided to give the amount to Ethan Vaz, a talented Tamilnadu chess player.
It's unbelievable to see such kind of gesture at this young age from Pragg.
Scholarship from Webster University
Because of his chess skills, he got a full scholarship offer from Webster University. The tuition fee per year is $27000, and the course is of 4 years. In total, he will get $108,000 worth of scholarships.
Following is the Facebook post of Chessbase India, where they have posted all the details.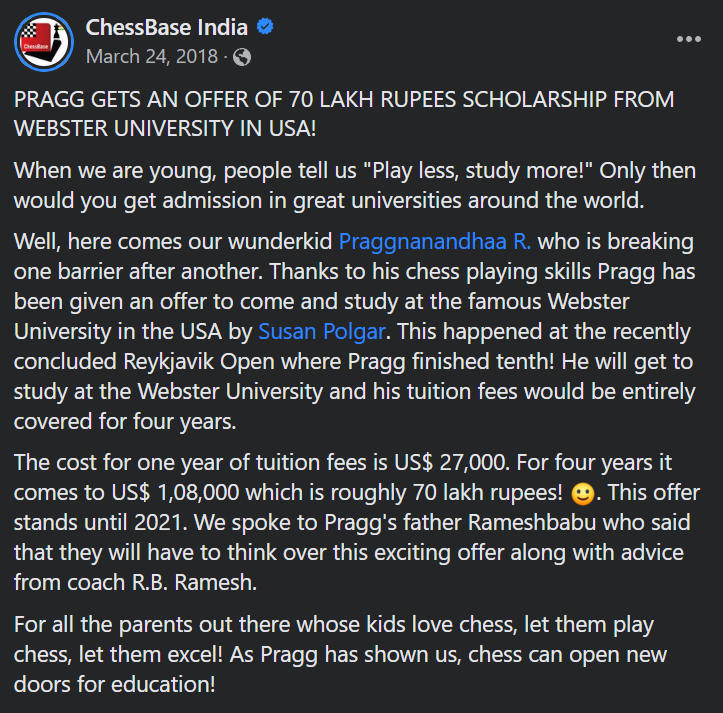 Second Indian and first youngest to reach finals in World Cup
This is by far the biggest achievement of Praggnanandhaa Rameshbabu. In the Chess World Cup, there are 206 players, and they play in a knockout format. It was an extremely difficult event to win, and Pragg managed to defeat very strong chess players such as GM Fabiano Caruana and GM Hikaru Nakamura.
He became the second youngest chess player to qualify in the finals after Vishy Anand.
Did the inner engineering course of Sadguru
Pragg did an offline inner engineering course by Sadguru. Sadguru himself posted a video of Praggnanandhaa attending one of his offline camps. Following is the video to watch.
Trust in one Coach
Since the early stage of Pragg's chess career, his main coach was RB Ramesh. He trusted him and his beliefs. I think it is very important to find a good chess coach and to keep a trust in him. Sometimes, blind trust can also be effective.
The following video on How can youngsters learn from Pragg
Praggnanandhaa Achievements
Following are some of the biggest chess achievements ever.
Youngest International Master ever at the age of 10

Second youngest Grandmaster at the age of 12

He was the third Indian player to defeat Magnus Carlsen

The 2023 World Cup Runner up
Praggnanandhaa Sponsors
He got various sponsorship deals from various companies. Some of them helped with one time while some of them are still providing all facilities.
Following are some of the major companies which helped Pragg to achieve his dream.
Baseline Ventures
PSPB
Microsense Networks for Training Camps
Webster University
Tamilnadu Government for his excellent performance at World Cup 2023
Best Chess games of Praggnanandhaa
Praggnanandhaa vs Magnus Carlsen
Pragg defeated Magnus Carlsen in various matches, including the Airthings Masters Rapid Tournament, FTX Crypto Cup, and Chessable Masters. Following are some of the videos of it.
Shortest Game of Praggnanandhaa & Magnus Carlsen
Pragg vs Carlsen | World Cup 2023 Finals
Praggnanandhaa vs Vishy Anand
The very first game between Vishy Anand and Praggnanandhaa
Praggnanandhaa vs Ju Wenjun
Praggnanandhaa vs Gukesh
Videos related to R Praggnanandhaa
Interview with Praggnanandhaa's father
2 Hour Interview with Pragg about his World Cup journey
About Praggnanandhaa's sister Vaishali
Vaishali Rameshbabu, also known as R Vaishali, is an elder sister of Pragg. Vaishali is also a very strong chess player and International Master in chess.
She is currently in the top 10 Indian Women chess players and has achieved 2 Grandmaster norms.
Can Praggnanandhaa become the World Chess Champion?
Definitely! Pragg is very young and already a 2700+ player. At the age of 18, he is rated about 2720+, and hence, we are sure that he will become an elite chess player in the upcoming few years.
Becoming a world chess champion will be a huge achievement for Pragg as no Indian became a world chess champion after Vishy Anand.
Apart from Pragg, there are two very talented chess players, Gukesh D and Arjun Erigaisi, who are on the way to becoming future world chess champions.
References:
Read More:
Donate Us
Thank You for reading our blogs. We are an ad-free platform and want to serve you the highest quality blog posts all the time. We appreciate your support through donations.