9 Facts About Judit Polgar
Judit Polgar is a chess legend and the first women chess player to cross the 2700 ratings in classical chess. She is a former world chess champion and currently promoting women's chess.
Women's chess is always a hot topic in chess. There are only a few women who are able to become very successful and compete along with top chess grandmasters. Judit Polgar and Hou Yifan are the two greatest women chess players we have ever witnessed.
Judit was born in Hungary, and she has 2 more sisters, Susan and Sofia. All 3 become Grandmasters in chess. It was a very thoughtful decision of her father to enroll all the girls in the chess field. Although there were very less women players at that time, the decision was quite bold.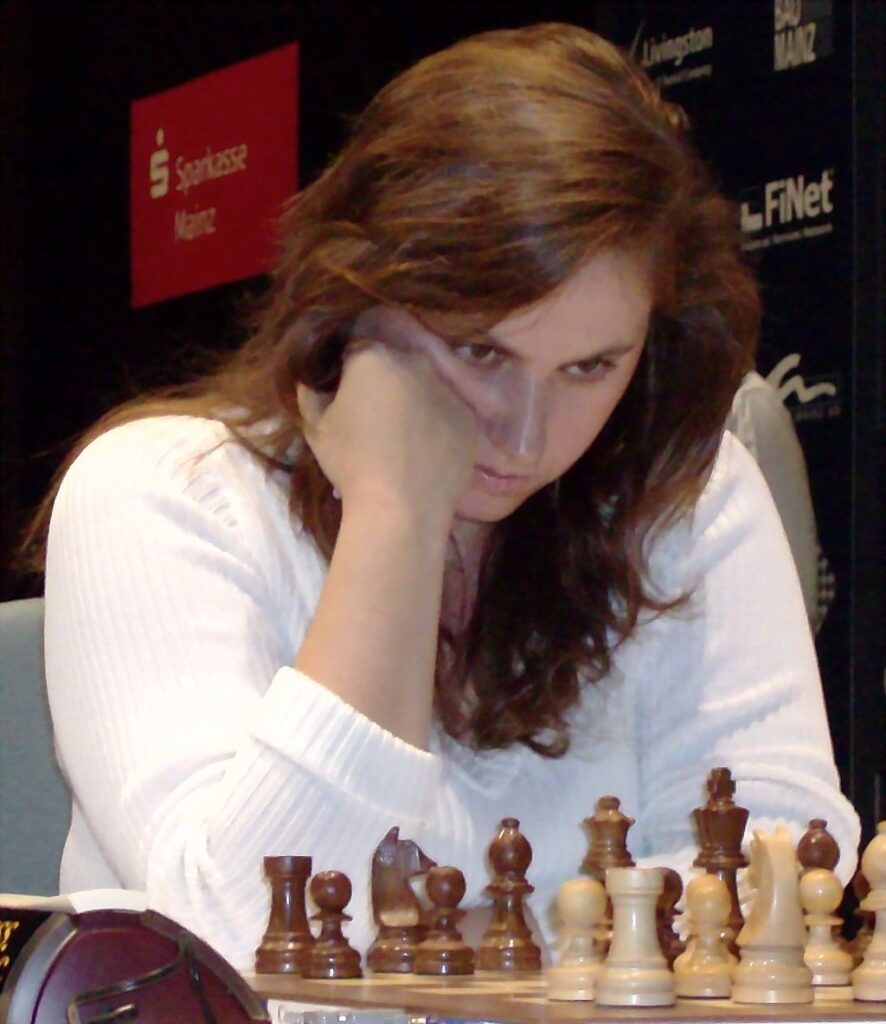 Facts About Judit Polgar
Judit Polgar, a living Chess Legend often titled the greatest female chess player of all time. She is a Hungarian Chess Grandmaster; her birthdate is 23rd July 1976. She is from Budapest, Hungary. She is the first female big thing in chess, and every youngster sees her as their inspiration. She created many world records; we will talk about them further in this article. Nowadays, we get to see her doing commentary in various chess tournaments, and she is one of the best commentators out there. Judit is 47 years old and has defeated many world champions in the past. Now, Let's move to the facts about Judit Polgar.
| | |
| --- | --- |
| Full Name | Judit Polgár |
| Birth Date | 23rd July 1976 |
| Chess Title | Grandmaster |
| Country | Hungary |
| Peak Rating | 2735 |
Early Life and Career
Polgar's father, Laszlo Polgar, carried out an experiment to prove that children could make exceptional achievements if trained in a specialist subject from an early age. Polgar has two older sisters, who both are chess players, GM Susan Polgar and IM Sofia Polgar. Laszlo's thesis said, ' Geniuses are made, not born. He and his wife trained their three daughters at home, and the result is in front of the world. Her father wants them to compete in men's chess events, and Judit delivers it by defeating the world champions. They faced many issues, as the policy was for women to play in women's tournaments only.
Child Prodigy
Judit was a chess prodigy; she defeated one of their family friends blindfolded at the age of 5. Can you believe that? Polgar's sister Susan used to train her also. Judit defeated an Internation Master at the age of 10. At the age of 9, Judit played her first-rated tournament in the US and came first in the unrated section of the New York Open.
At the age of 10, She defeated 52-year-old IM Dofili Drimer. When Judit was asked if she wanted to play against the boys, her reply was, "These other girls are not serious about chess. I practice five to six hours a day, but they get distracted by cooking and work around the house".
GrandMaster Title
Judit won her first international tournament at the age of 9 in New York. She got the title of grandmaster at the age of 15 years and 4 months in 1991. She broke Bobby Fisher's record of getting the GM title. By this, you can think of the greatness of Judit. At the age of 12, she first time defeated a chess grandmaster. In 1991, she also won the Hungarian Men's Super Championship in Budapest. In 1993, Judit became the first woman to qualify for an Interzonal tournament.
World Youth Champion
Judit Polgar became the World Youth Champion at the age of 12 in the Female section, but she also became the champion against boys at the age of 14. She also won the first and second Women's Olympic Champion's title in the history of Hungarian chess. She has been the strongest female chess player since childhood.
Guinness World Record
Judit has a Guinness World record; she has been the highest-rated Women's player for 26 years. She topped the World ranking in 1999, and she was up there until 2015. There is no doubt why she is the strongest female chess player ever. She used to compete in Men's tournaments and even won many; between the time period of 1990 to 2000, Judit won or tied for first place at 20 tournaments.
World Ranking
Polgar was in 8th place in the World Rankings in 2004, and in 2005, she also also the Men's World Chess title in San Louis. She was a member of Hungary's men's team at chess olympiads for a total of 8 times and even won two silver medals. Judit won the bronze medal at the Men's European Championship in 2011.
Defeating World Champions
When we say she is a living legend, Judit Polgar has defeated 11 out of 21 World Chess Champions, including Magnus Carlsen, Garry Kasparov, Vladimir Kramnik, Vishwanathan Anand, Veselin Topalov, etc. There is always this debate about which of the greatest, Magnus or Garry Kasparov, Judit, has defeated both of them.
Kasparov Controversy
In 1994, Judit lost a controversial game to Garry Kasparov (World Champion). She was 17 at that time, and during her fifth game with Kasparov, Garry outplayed her and got an advantage after 35 moves. On the 36th move, Garry changed the move of a knight and moved the piece to a different square. As per chess rules, if a piece is released, the move must stand. Polgar didn't challenge them later when asked, she said: "I was playing the World Champion and didn't want to cause unpleasantness during my first invitation to such an important event."
Return to Competition
She took some time off in 2004 and 2006. She showed her potential in between, and later in 2010, she won the Ajedrez UNAM quadrangular Tournament with a final score of 6 out of 8 by defeating Topalov (3.5-0.5) and Ivanchuk (2.5-1.5).
In 2010, she also defeated the strongest Czech player, David Navara, by a score of 6-2. In 2011, Polgar made it to the final eight World Cup players but was eliminated by Peter Svidler. She defeated Sergey Karjakin in this tournament.
Judit defeated Magnus Carlsen in a rapid game at the Chess Olympiad 2012. In 2013, Polgar defeated Nigel Short.
Retirement
Judit Polgar announced her retirement on 13 August 2014, and then she was elected as the head coach of the Hungarian National Men's team. She received Hungary's highest decoration, the Grand Cross of the Order of Saint Stephen of Hungary. She also does commentary at Chess tournaments, and it's always fun to watch her. In 2021, Judit Polgar was inducted into the World Chess Hall of Fame. She regularly organizes the Global Chess Festival in Budapest.
Interesting videos of Judit Polgar
Podcast with Judit Polgar
Ted Talk with Judit Polgar
Judit Polgar vs Magnus Carlsen
Her chess course on Life
Judit also recorded a chess course for chess.com about her life and games. She analyzed games and shared experiences of her life.
Published Books
Judit wrote 3 books in a series called Teaches Chess. Following are the names of the books
Part 1 – How I Beat Fischer's Record
Part 2 – From GM to Top Ten
Part 3 – A Game of Queens
I remember Surya Shekhar Ganguly recommended these books to everyone in one of his chess24 videos.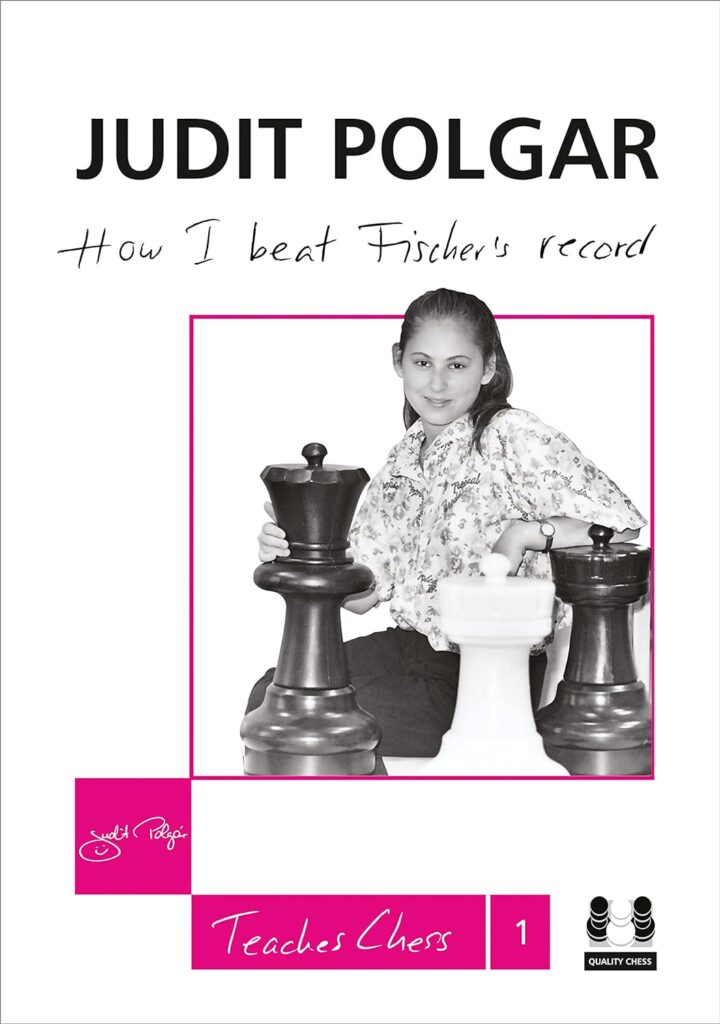 The above books are highly recommended for women chess players who are serious about chess.
These where some of the facts and information about Judit Polgar.
Read More:
Donate Us
Thank You for reading our blogs. We are an ad-free platform and want to serve you the highest quality blog posts all the time. We appreciate your support through donations.