DGT 2500 Chess Clock Review: Is It Worth It?
DGT 2500 is a new chess clock launched by Digital Game Technology. It is an improved and very stylish-looking version compared to DGT 2010.
Currently, the clock is available in Red color with only one version.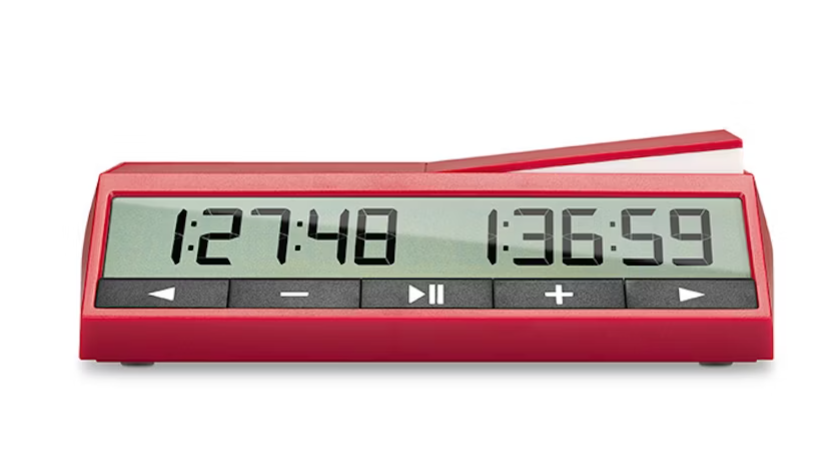 In this article, we will see a complete guide to DGT 2500. We will also discuss whether it is worth it to purchase the clock or not.
This clock is not connectable to the DGT chessboard. Currently, only DGT 3000 chess clock can be connected to DGT chess boards. We have published a full DGT 3000 review which you can read by clicking the following button.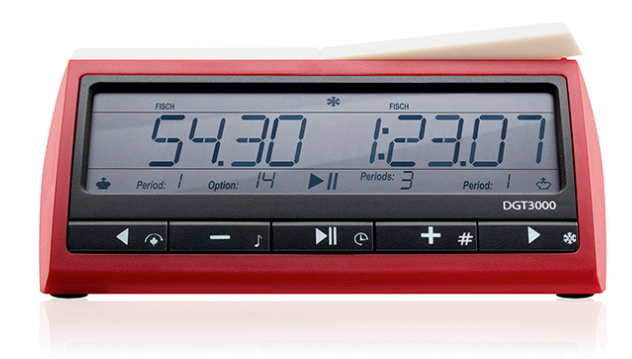 What is Digital Game Technology?
Digital Game Technology, also known as DGT. This company has been manufacturing chess clocks and digital chess boards for decades. They are the market leader in this industry.
Many other companies tried to make the chess clock and boards, but they could not compete in pricing. Making a chess clock is comparatively easy, and many chess organizers are using it because it costs less than usual.
But to use a chess clock in FIDE tournaments, you need to get approval from it. Currently, very few chess clocks are FIDE approved.
Apart from DGT 3000 chess clock, DGT produced many high-quality chess clocks in the past. Right now, DGT is majorly following chess clocks.
DGT 2500

DGT 3000

DGT 2010

DGT Echo Talking Chess Clock

DGT North American

DGT Travel Timer

DGT Easy Plus

DGT 1001
Can we connect DGT 2500 chess clock to Chess Board?
No. This chess clock is not connectable to any chess set. For this, you need to purchase DGT 3000 chess clock, which is currently the most popular chess clock.
Key Features of DGT 2500 Chess Clock
Super clear display for easy time reading
Updated timing options with 36 pre-programmed and manual settings
Two pre-sets for Armageddon matches
Suitable for various games other than chess, including Go, Backgammon, and Scrabble

A more visible lever indicating whose turn it is

User-friendly design for easy set-up selection

Low energy consumption with over 4,000 hours of gaming

DGT guarantee of quality for accuracy and durability

Innovative flag bar signaling when time has run out

Optional automatic period transition after a set number of moves

Quick time penalty feature for easy addition of an extra minute

Recommended by FIDE for tournaments and competitions worldwide

Manual Languages including Dutch, English, French, German, Italian, Polish, Russian, Spanish, and Turkish.
DGT 2500 Chess Clock Settings and Time Controls
DGT provided 36 pre-set time controls which are also mentioned behind the chess clock. These time controls include Sudden Death, Fischer Bonus, Delay (Bronstein), US Delay, Canadian Byo-Yomi, Scrabble, Hourglass, and Gong.
Some of the time controls are very very unique and not so common in chess, like hourglass and gong. In this clock, they have focused more on Fischer time controls which are time controls with increments.
DGT 2500 buttons
You get five buttons in front and one on/off button below the chess clock. The following image will guide you about the buttons.
Let's see the names of the buttons from left to right – Back, Minus, Start/Stop, Plus, Forward.
Plus button is also useful for seeing the number of moves played. The forward button can also be used as Freeze Button. The Minus button can be used as a sound button.
The buttons and their uses are very minimalist and easy to use.
DGT 2500 Price
DGT doesn't sell anything on the website. You have to purchase this clock from online stores like Amazon or offline chess stores.
Mostly you will find offline sellers at chess tournaments.
On Amazon, you get this clock for $79. On other websites also, the price is almost the same.
While I am writing this article, DGT 3000 is available at $59, which is $20 less than DGT 2500.
DGT 3000 vs. DGT 2500
The major difference between these two clocks is board connectivity. You can connect DGT 3000 to the chess board for live streaming and broadcasting.
DGT 3000 comes with many more features, and it is also slightly big and looks better than DGT 2500.
DGT 2500 is an upgraded version of DGT 2010, not DGT 3000.
Is DGT 2500 chess clock worth it?
DGT 2500 is on the expensive side. If you are going to purchase DGT 2500, go for DGT 3000. It comes with a lot of features. If you are a professional chess player, you should not prefer to purchase any chess clocks apart from DGT clocks. Most DGT chess clocks are FIDE-approved and come with a warranty.
In conclusion, investing in DGT 3000 is a much better and wiser decision than going into DGT 2500.
If you are looking for more budget-friendly chess clock options, click on the following article to read our chess article regarding the best chess clocks.
Resources and References
Donate Us
Thank You for reading our blogs. We are an ad-free platform and want to serve you the highest quality blog posts all the time. We appreciate your support through donations.