Chess24 vs chess.com membership! Which chess membership is better? (2022)
In this article, we will compare chess24 vs chess.com websites and at the end of this article, I will give my personal opinion about which membership you should buy. On both websites, you can play, so I haven't found any difference in playing performance. We will compare many other points
Chess24 website is owned by world champion Magnus Carlsen's company Play Magnus. Chess24 is established in 2014 by german grandmaster Jan Gustafson. Chess24 is mainly focused on high-quality video series.
The Chess.com website is established in 2005. Chess.com is currently the number 1 chess-related website and has the highest number of visitors.
In 2022, Chess.com announced a merger with Play Magnus, and hence Play Magnus is a part of chess.com.
Recently chess.com changed its pricing and now even in Gold Membership, you will get a lot of benefits.
Playing experience
The Chess.com playing experience is overall good. On chess.com you can play various variants such as chess960, 3 checks, crazy house, Bughouse, etc. On chess24 you can only play standard chess. As chess24 mainly focuses on high-quality video service, that's why the playing experience is overall not good as chess.com.
Membership fee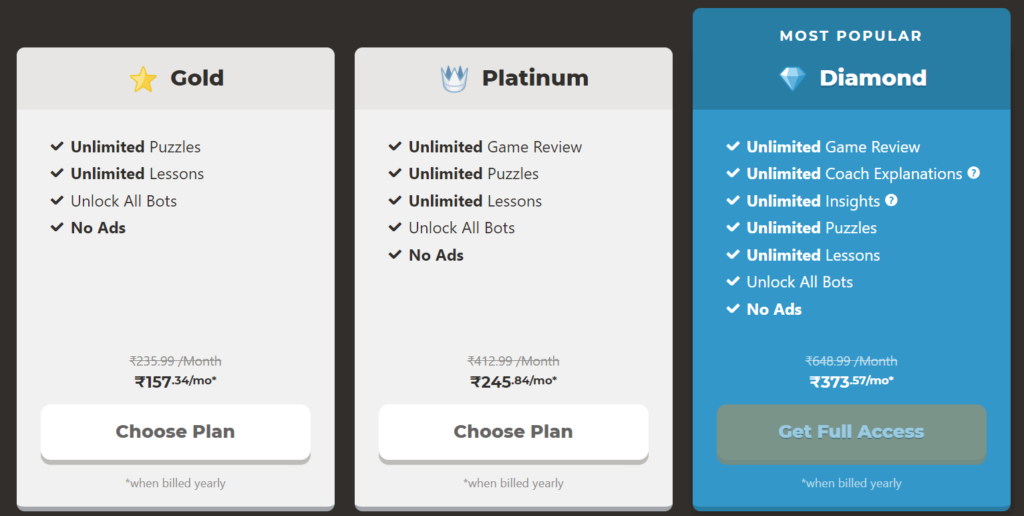 Chess24 offers free membership to all Grandmasters and women grandmasters. For all other players, Chess24 offers only standard membership which costs 150 USD annually. The price point is relatively high. But chess24 always offers some discount codes between 25-50%.
Bonus tip – If you don't have an account, create one from here, they will send you updates from time to time about special offers and discount codes
Chess.com offers free membership to all titled players (GM,WGM,IM,WIM,FM,WFM,CM,WCM,NM). For other members, Chess.com offers 3 different types of memberships i.e. Gold, Platinum, and Diamond. membership prices start at 49$ 79$ 119$ per year.
Chess.com also offers a 1-week free trial to new users.
Video Series
Both websites provide videos on their platforms.
Chess24 has the best video series collection. You will find courses from top grandmasters such as World champion Magnus Carlsen, GM Vishwanathan Anand, GM Loek Van Wely, GM John Ludwig Hammer, GM Romain Eduard, GM Jan Gustaffson, GM Dorfman, GM Pepe Cuenca, GM Paco Vallejo, IM Artur Yusupov and many more. Most of the video series are recent. I think 150 Usd is totally worth it if you watch 10 video series also.
Chess.com also offers high-quality video series. The most I liked is Caruana's series on World Championship Match.
Puzzles
Chess24 offers a training mode in which you can solve puzzles. In the Free plan, you will get 5 puzzles and in membership, you will get unlimited puzzles. Chess24 puzzles are comparatively difficult and not perfectly selected. The Puzzle Page is also slow.
On chess.com solving puzzles is the best thing. Chess.com offers two types. 1st is a normal puzzle where you improve/decrease the rating and the other is the puzzle rush. In a puzzle rush, you have 3 or 5 min and you have to solve maximum puzzles.
Chess.com Gold Membership is enough to get all these benefits.
Live commentary
Both websites offer high-quality live commentary. Both cover almost all top-level tournaments. On chess24 generally, Peter Svidler and Jan Gustafsson do commentary and on chess.com generally, Robert Hess and Daniel Rinsch do commentary.
Chess24 is better in terms of commentators. But since 2021, chess.com also started to bring top players in commentary like Vishy Anand, Kramnik, etc.
Anyway, to see commentary you don't need any premium plan. This is absolutely free for both paid and free users.
Online tournaments
Chess24 offers top-level online tournaments such as the Magnus Carlsen invitational, and Banter Series.
Chess.com offers Many online tournaments for all titled players such as Titled Tuesday, Arena tournament, speed chess championship, Women speed chess championship, and many other tournaments
Blog
This feature is offered by chess.com. You can create a blog on chess.com which can be read by millions of chess.com users.
This is useful for chess coaches and chess academies. Personal coaches can also get benefited by it.
Coaches
This feature is also offered by chess.com. If you want to give coaching and earn money you can register to chess.com coach.
A personal coach is necessary to improve your performance rapidly. After checking they accept or reject the application. There is no minimum requirement. Coaches and students also get a good ready-made platform.
Another platform is lichess where you can find coaches. The best part of lichess coaches is they are only titled players.
Apart from these features, chess.com offers lessons, drills, play with bots, an amazing forum, a classroom, clubs, a tablebase, and many more features.
Final thoughts
Chess24 is now chess.com's company. This means that chess.com is now owning everything.
Chess.com Gold membership is perfect for below 1800 players. Chess24 is more likely suitable for advanced players or titled players.
I would highly recommend going with chess.com membership as it offers thousands of more benefits at almost half the price.