Book Review: How to Win at Chess by GothamChess aka IM Levy Rozman
Levy Rozman is a most successful chess youtube. He has over 2.7M subscribers on youtube with the channel name Gotham Chess.
He has a unique style of talking on camera, and that's why he become very famous on youtube.
After gaining so much audience on different platforms on Twitch and Youtube, he started his own chess course website Chessly. Currently, he has hosted more than 10 courses on Chessly.
In March 2023, he announced the book on Twitter, saying that it would be launched in the fall of 2023.
On April 18th, 2023, he officially announced the book cover on his Instagram page with a launch date of October 2023 and the book name – How to Win at Chess: The Ultimate Guide for Beginners and Beyond.
I am sure that many fans like us are excited about this news, and defiantly this book will make a big hit in the chess world.
What to expect from this book?
This book is targeted at beginners and intermediate chess players explaining how to play chess and also chess strategies. The first half of the book is targeted at 1000-800 players and covers openings, endings, tactics, and strategy.
The second half is for 800-1300 rated players and explains core skills and tips to improve at chess.
Pricing of the book
This book is priced at $24.99, which is extremely good pricing considering what he is offering. This book is available in various bookstores, including Amazon. Of course, we can also expect this book in offline chess stores once it gets published.
Currently, Amazon is accepting pre-orders of this book, and you can claim it for $22.99 for a Hardcover copy and $11.99 for the Kindle edition.
Within one day, this book becomes the #1 bestseller on Amazon in the board games category.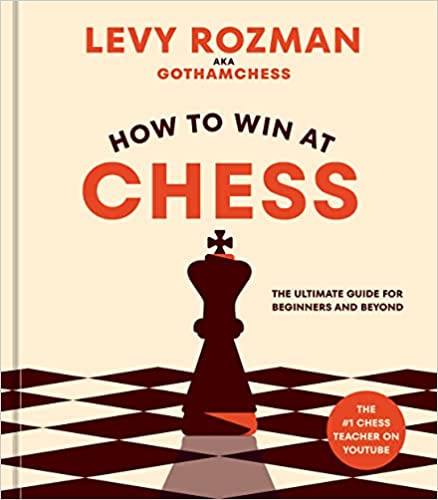 Features of How to Win at Chess by GothamChess
The first half is targeted for 0-800 players
The second half is targeted for 800-1300 players
Exclusive bonus content on Chessly
More than 500 instructive positions.
About the Author
Levy Rozman is an International Master by profession. In covid times, he announced retirement from professional chess and started focusing on content creation. Within no time, he becomes a very popular chess streamer and YouTuber.
He also donated $100,000 for chess in school programs to reach chess to more and more students.
Final Note
According to Amazon, this book will be released on 24th October. We will publish an entire review of this book once it gets published!