7 Best Chess Endgame Books and Courses for Beginners
Studying endgames can be boring, especially for beginners. Various chess courses and books are available to make players' life easy. This article will show the seven best chess endgame books for beginner chess players.
First, understanding your endgame knowledge is important to study endgames. The first step is learning basic chess endgames and then going for advanced-level endgames. To learn these patterns, the most recommended book is 100 endgames you must know by Jesus De La Villa. You can read the complete review of this book by clicking here.
How to study chess endgames on your own?
This question bothered me when I was young. Various chess material is available to study chess endgames, and players often get confused when they see hundreds of videos on various platforms. Following are bullet points that will help you study endgames on your own.
Understand your weakness – Try to find your weakness in your endgame. E.g., are you making mistakes in major piece endgames or minor piece endgames? Which piece of endgame do you play better? After analyzing, you will understand your strength and weakness. 
Watch Videos – There are various chess videos available on youtube, and also there are many chess courses that will help you improve your endgame. Watching videos is easy compared to studying from a book. 
Play endgame positions with a computer – Once you studied basic endgames like Queen vs. Rook, Minor piece endgames, etc. Find the most interesting positions and practice with computers. You can also do the same with your training partner.
7 Best chess endgame books and courses for beginners
This list will help you to find a book according to your need. We recommend you buy one book at a time and then go for another. 
1- 100 Endgames You Must Know by Jesus De La Villa
Most suitable book to study endgames and our 1st recommendation
This is no doubt the best chess book for beginner chess players. GM Jesus selected the 100 most frequent chess positions and analyzed them well. This book covers almost all theoretical positions. To study this book, you should have a basic knowledge of endgames, like how to win with Queen, Rook, Two Rooks, etc. 
After finishing this book, you can purchase the next book in this series which is 100 endgame you must know workbook. This book is filled with 100 exercises. 
Buy this book from Amazon
2- Silman's Complete Endgame Course
Jeremy Silmon becomes very popular because of this book. The title of this book explains everything – From beginner to Master. This 500+ pages book will change your endgame play completely. Silmon covered all the positions which can be possible. 
This book is a complete package for beginners to become good chess players. He created topics according to the rating range. For e.g., 1400-1599, 1600-1799, etc. Because of this, it becomes very easy to study according to your level. This book is recommended to everyone up to 2000 rated players. 
Buy this book from Amazon
3- 1001 Chess Endgame Exercises for Beginners
One thousand one chess exercises are the best chess series for up to club-level chess players. This is the newest addition to this series. In this book, author Thomas Willemze collected 1001 chess puzzles that are suitable for beginner chess players. After solving 1001 chess puzzles, I am sure that the player's level will increase by 100-200 points atleast. But you should purchase this book once you have a basic knowledge of chess endgames. 
Willemze uses all his experience as a coach, and his familiarity with the famous Step Method, to carefully build up your chess knowledge step-by-step. He shows you the strength of all pieces, from the lonely pawn to the almighty queen. And he guides you from the basics to more complex tactics in a highly instructive puzzle rush.
Buy this book from Amazon
4- 100 Endgame Patterns You Must Know
This is the 3rd part of the series 100 endgames you must know. GM Jesus shows some practical importance in understanding these different patterns. Jesus selected some amazing illustrations from top-level games and amateurs' games to understand how amateur thinks. After studying this book, you will definatly start making fewer mistakes in the endgame.
Buy this book from Amazon
5- Endgame Strategy by Mikhail Shereshevsky
This is the best chess classic you will ever get on chess endgames. In this book, Mikhail selected some beautiful chess games and explained the logic behind their thinking process. This endgame book is not a core endgame book. Usually, all positions are filled with multiple pieces. I personally have studied this book three times in the last four years. This book will be republished in 2022 with a lot of new additions but with the same value. I highly recommend buying the new book as it covers almost all old positions as well as adding various new positions from recent games.
Buy this book from Amazon
6- 100 Classical Endgames by ChessMood
Suitable for everyone and overall our 2nd recommendation after 100 Endgame You Must Know Book
This is the by far best chess endgame video course. In this course, GM Avetik, who is a founder of ChessMood, explained famous classical chess endgames. Currently, this course consists of 48 chapters, but they are slowly adding new chapters, and eventually, they will finish publishing all 100 games video.
ChessMood is a membership platform where you will find hundreds of hours of video lectures and a classic community. All for the cost of $29 per month. We have already published a chessmood review article which you can read here. 
Watch this course on ChessMood
7- Must Know Endgames by Alexandra Kosteniuk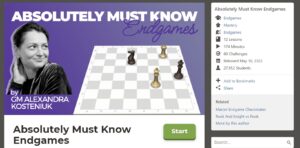 This is the course by former world women's chess champion GM Alexandra Kosteniuk. In this course, she explained must-know endgames for beginners. This course is completely free for chess.com platinum users. Otherwise, you will need to purchase a platinum membership. This course is suitable for absolute beginner chess players. Although if you don't have a chess.com membership, you will also get this type of video on youtube for free. But with the membership, you can watch thousands of other exclusive videos.
Watch this course on chess.com
Should beginners study endgames?
YES! Beginners should start studying chess endgames from an early stage. Beginner chess players also know atleast important positions. The best way to study chess endgames for beginners is to watch the ChessMood chess course, which we already have recommended in the article. Also, you can hire a chess coach to learn chess endgames if you get bored. 
Are openings or endgames more important?
Both are important for improvement. But I would say that openings are more important than the endgame. If you make an opening mistake, you will mostly not be able to play the endgame. But if you play opening properly, you still get a chance to win the position in middlegame, assuming your endgame is not good. 
There is no doubt that you should focus on both factors. But at a beginner stage, you can make a 30-50-20 rule. 20% time studying openings, 50% time studying middlegame, and 20% time studying endgames. 
How to train endgames?
There are various methods to train endgames. Some of them are as follows.
Train with a chess coach

Watch youtube videos for free.

Buy a good endgame chess book or course.

Find a playing partner to play with.